Firestone Walker Brewing's award-winning brewmaster, Matt Brynildson, was recently invited to brew at Marston's Brewery in the United Kingdom. Brewers selected from Japan, Australia and Denmark will join Brynildson to bring their talents and recipes to the U.K. for the JD Wetherspoon International Beer Festival.
"To think that we can bring our U.S. styles to the U.K., the home of pale ale, is a great honor in itself, but to be able to brew the Firestone Walker beer in the home of the original "Burton Union" is just an awesome privilege," said Brynildson.
The trip has some additional significance as well. Marston's and Firestone Walker share a unique link as they are the only two breweries in the world fermenting beer in a union of oak barrels. The use of oak barrels for fermentation is a centuries old method of brewing all but forgotten with the advent of stainless steel.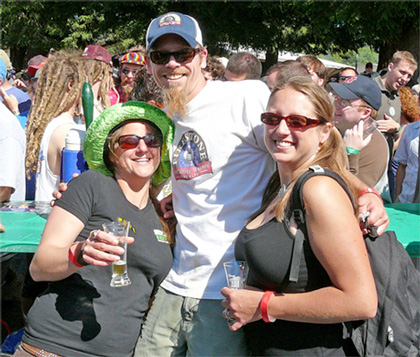 Matt Brynildson with a bevy of beer babes at the Boonville Beer Festival.
Matt will be brewing a "California style" pale ale, based on his own recipe, at the Marston's Brewery later this month. The beer will be exclusively featured at the 2008 JD Wetherspoon International Beer Festival happening October 30th through November 16th at 650 JD Wetherspoon pubs across the U.K.
Brynildson has been awarded with several honors in his career thus far. In both 2006 and 2004, Brynildson was named World Beer Cup Champion Brewmaster for Mid-Size Brewing Company. In 2003 and 2007, he was named Great American Beer Festival Brewmaster of The Year for Mid-Size Brewing Company. Brynildson was also the 2007 recipient of the Russell Schehrer Award for Innovation in Brewing.