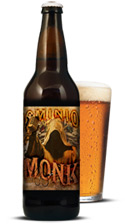 Dominion Brewing in Delaware and Dawson's Liquors in Maryland have collaborated on a beer they call Monk Czech, a Czech Pilsner inspired Belgian-style Ale. A press release states there's a legend that a beer like this was first brewed in 1840 using black market malt smuggled out of Plzeň by monks. This brewer/retailer collaboration utilizes Saaz, Tradition, Motueka and Nelson Sauvin hops and pilsner malt for a 5.2% ABV beer with 45 IBUs. The beer is fermented with a Belgian yeast, imparting fruity aromas and flavors, as well as a restrained spiciness.
– Kona Brewing in Hawaii has renamed Wailua Wheat, simply calling it Wailua Ale and making it available in all 36 states where Kona beers are sold. First brewed in Hawiia as Kiliko'i Wheat, the beer is made with real passion fruit. It contains 5.4% ABV and 15 IBUs.
– Full Sail Brewing made Pacific Northwest Wit using the hops it received as a partner in Ales for ALS. The Hood River brewery is one of 38 participaing in the campaign that supports of the ALS Therapy Development Institute's mission to discover and develop effective treatments for ALS, commonly known as Lou Gehrig's disease. Participating brewers receive a special blend of experimental hops donated by both B.T. Loftus Ranches and Hopunion. From these hops each participating brewery brewed a unique beer, donating a portion of the sales to ALS TDI. "Our brewers got creative for a great cause and brewed a Pacific Northwest Wit. It's a mash up of different influences resulting in a delicious, complex, refreshing pint that blurs traditional style categories," said Barney Brennan, the company's brewery supervistor. The 6%, 65 IBU beer will be available exclusively on tap at Full Sail's Tasting Room and Pub in Hood River, Oregon.
– Having learned a lesson in 2012, Alaskan Brewing produced plenty more of its seasona; Alaskan Raspberry Wheat Ale this year. It took the brewery's gift shop only an hour last year to sell out of the entire initial bottling. Brewers use more than 3,000 pounds of real raspberries in making the Raspberry Wheat, which in 2010 was the inaugural release in Alaskan's Pilot Series. "There are almost fifty types of wild berries in the state," said Alaskan brewer Jessie Perry, "so they've long been a staple in the diet of both Alaskans and the many bears that live here. Brewing a beer that features some of our favorite berries is a natural fit." With additional beer on hand, the brewery planned to celebrate the release with a pancake feed, featuring raspberry syrup and special flapjacks prepared by its Brew Crew.