Last week Odell Brewing presented a one-half barrel brewing system to the Brewing Science and Technology class at Colorado State University. Odell Brewing has collaborated with the class since its first year.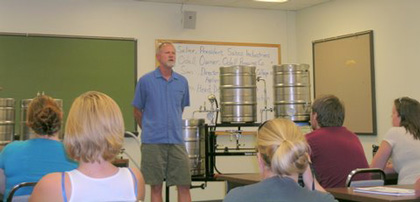 Doug Odell presents brewing equipment to CSU students on September 4, 2008.
The class, offered to students aged 21 and over, covers the science and technology involved with brewing, fermenting, finishing and evaluating beers. The donated brewing system will now allow students to brew regularly in a classroom environment. Last year, students also brewed Easy – An IPA on Odell's five barrel pilot brewing system. The class will once again select a recipe to brew at Odell Brewing.
"This system will allow recipe repeatability in brewing from semester to semester, and is a huge step beyond the home brewing equipment we used previously," said class instructor Professor Jack Avens Ph.D. "The Department of Food Science and Human Nutrition and I have enjoyed a long relationship with Odell Brewing Company, and I want to continue this supportive relationship for the educational benefit of my students."
"Odell Brewing has built its business around innovation and is excited to share its passion by investing in the education of the next generation of brewers.", said Wynne Odell, brewery owner.
Ali Hamm, a graduate student researching organic hops grown in Colorado, is the teaching assistant for this year's class. Ali completed the Brewing Science and Technology course in 2007, and some of her organic hops were used in the class beer that year. This year, Odell Brewing will again use Ali's hops in its Hand Picked Pale Ale.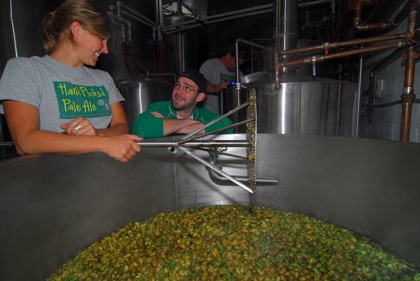 Ali Hamm and Chris Armstrong mix locally grown organic hops for the Hand Picked Pale Ale.
Both the Hand Picked Pale Ale and the CSU class brew will be available at the Odell Brewing tap room later this fall.