That it takes a lot of craft brewers to make a lot of craft beer was obvious at the 2013 Craft Brewers Conference in Washington, D.C.
The Brewers Association announced that 6,400 brewing professionals attended the conference, most of whom also attended the accompanying trade show, BrewExpo America (pictured below – photo courtesy of the BA). The trade show was twice as big as in San Diego in 2012.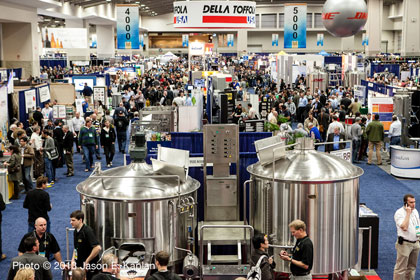 BA director Paul Gatza provided a complete overview of industry growth, including the details behind 15% sales growth in 2012. There were a record 409 brewery openings in 2012 (99 brewpubs and 310 microbreweries).
Thus a total of 2,347 craft breweries were operating in 2012, with another 1,254 breweries in planning, As many as 500 may open in 2012. There were also 43 closings last year, and Gatza provided on cautionary note. "It wouldn't surprise me if the number is 50 next year, or if the number is 150," he said.
Also during the week:
* Peter Bouckaert of New Belgium Brewing received the Russell Schehrer Award for Innovation in Brewing. Since joining New Belgium in 1996, Bouckeart has overseen the creation of a vast array of beers. New Belgium has more beer aging in wooden vessels than any brewery in the country, resulting in many beers in its "Lips of Faith" series. Its range doesn't stop there — Ranger IPA is one of the best selling India Pale Ales in the country, the fastest growning style in the US.
* Art Larrance of Cascade Brewing/Raccoon Lodge & Brewpub received the Brewers Association Recognition Award for his innovative and award-winning beers. Larrance has been in the industry since the early 1980s and opened Cascade Brewing in 1998.
* David Katleski, president of the New York State Craft Brewers Guild and owner of the Empire Brewing Co., received the F.X. Matt Award for his efforts to make regulatory reform possible and change legislation. Katleski operates a small brewpub in Syracuse and is constantly working to help the local craft market. This past year, he had five major pieces of reform legislation passed in New York.
* A record 233 small and independent American brewery owners and brewers, representing 215 craft breweries and 46 states, climbed the steps of the United States Capitol. They met with Congressional staff to tell their success stories and discuss legislative issues of concern to the craft brewing industry.
* New Belgium Brewing co-founder and CEO Kim Jordan welcomed attendees as this year's keynote speaker. Jordan presented the keynote at CBC in New Orleans in 2003, where she called for craft brewers to aspire to reach 10% of all U.S. beer sales. A decade later, Jordan returned to discuss issues ranging from technical brewing considerations to the industry's collective spirit and future.
* Peter DeFazio (D-OR) was presented the Brewers Association Achievement Award in appreciation of his five years of leadership in the House Small Brewers Caucus. DeFazio was recognized for his evergreen commitment to supporting craft brewers and for his personal passion and enthusiasm for craft beer and homebrewing.
* With increasing numbers of craft brewers prioritizing sustainability issues, the BA officially unveiled three new manuals for craft brewers: BA Water and Wastewater: Treatment/Volume Reduction Manual; BA Solid Waste Reduction Manual; and BA Energy Usage, GHG Reduction, Efficiency and Load Management Manual. Each contains multiple levels of solutions for different size breweries and a toolbox including guidance, checklists and Excel-based tools.