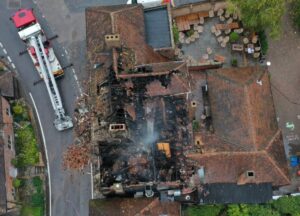 The Dirty Habit pub in Hollingbourne, Kent, which dates back to the 11th century by some estimates, was engulfed by flames on Sunday night.
The site, now run by pub chain Elite, was a favorite stop for pilgrims on the trail to Canterbury. King James II is also reputed to have stayed there while en route to Dover and then France in 1688 when he was deposed by the Glorious Revolution. Originally called The King's Head, it was then called Pilgrim's Rest before being renamed The Dirty Habit as a tongue-in-cheek nod to the clothing of the pilgrims.
There is some debate as to its actual age, with some claims suggesting that it is only a spritely 800-year-old boozer with a Georgian façade, but it certainly has a long history either way. How much of that has now been lost because of the fire is currently unclear.
Read the rest in The Drinks Business.