I was eating my breakfast during a recent visit to Portland when I overheard some tourists at the next table ask the waitress if she could recommend a "must see" for Portland. The waitress couldn't come up with anything but I was all too happy to help her out by answering the question.
"Don't you know where you are?" I asked, "This is the craft beer capitol of America." I went on to explain about the craft beer movement and gave them a bunch of information on the Oregon Brewer's Festival and the Portland beer scene. The tourists, two gents from North Carolina, were very excited and thanked me, and the lord who brought me to them, before embarking on a tour of the city with a new purpose.
I told you that, so you'd understand this. Most people know Portland is a big craft beer town but a Mecca for craft spirits? I knew Rogue and a few others were micro-distilling craft spirits here, but I had no idea there was a community of eight micro-distillers plying their trade right here in River City! Obviously "I didn't know where I was" and The 4th Annual Great American Distillers Festival really opened my eyes.
The Great American Distillers Festival is a gathering of small distilleries from across the country who come to Oregon, the "Mecca of craft distilling", to share their products, their passion, and their expertise in hand-crafting spirits.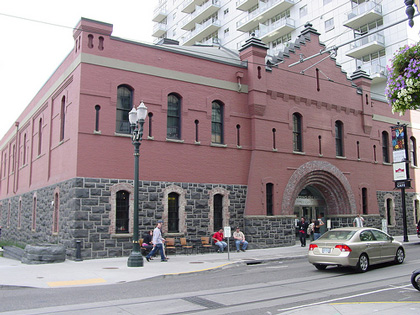 The event was held at the Gerding Theater, a very distinctive building originally built in 1891 to house the Portland Armory. The old historic building resembles a medieval fortress in the Brewery Blocks of the Portland Pearl District. The facilities renovation into a modern theater arts complex was completed in October 2006 and last year the Great American Distillers Festival found a home there.
Four days of peripheral Portland events led up to the first day of the festival. Starting with Monday's opening reception at Rogue Ales Public House & Distillery with a keynote address by a man well known in the brewing world, Bill Owens, author and President of the American Distilling Institute. (Look up Alimony Ale, a beer whose bitterness could only be rivaled by the aftertaste of a bad divorce.) Bill presented a snapshot of the state of the craft distilling movement and his vision of its future. The forecast in a nutshell? Whiskey and other "brown spirits" are the coming trend.
Other events were the "Shot and a Beer" at the Horse Brass Pub , a tasting of barley-based whiskeys and beer at McMenamin's, and two nights of cocktail events at participating bars pairing distillers with local bartenders. Distillers and members of local and national press were treated to a tour of several of the Portland area's eight craft distilleries. All this led up to the official festival opening on Saturday, August 23rd.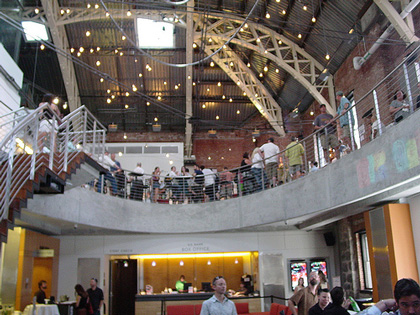 When I arrived at the event that day the air was filled with excited chatter and the heady aroma of powerful spirits. 30 craft distillers from as far away as Maine were set up on the second floor with 50 varieties Rum, Vodka, Gin, and Whiskey with a sprinkling of Brandies. I made my way up and walked the floor checking out display after display of carefully, lovingly, handcrafted spirits. Listening to the distillers describe their products and processes, I felt an immediate kinship with the passion of the craft beer culture.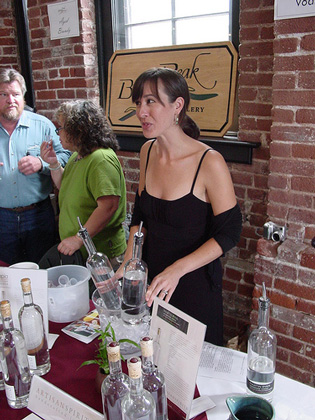 After working my way around the room I put the camera aside and I stepped up to the Bluecoat gin display, the first of many samples of the micro-distiller's tastiest vodkas, rums, gins, whiskeys, brandies I planned to try.
Sampling straight spirits can be kind of rough on the ol' taste buds, but it's necessary to truly appreciate the finished product. You can still taste a difference between spirits when they're combined with mixers, but a sample of the undiluted ambrosia logs the flavor into your sensory memory and allows you to search out and identify those flavors when combined in a drink later. At least that's my theory, and I'm sticking to it.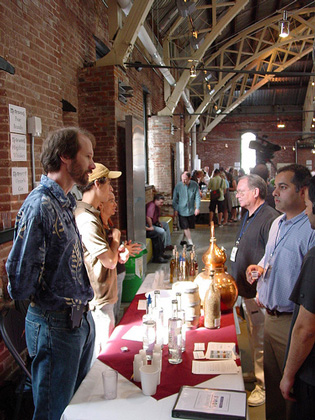 I'm not overstating when I say I logged a lot of sensory memory on the second floor that day. By the time I was done I had alcohol breath that would rate a health hazard warning label in California, and a handful of new favorites and a list of others I plan to try in cocktails.
A couple straight favorites were:
Stranahan's Colorado Whiskey, an excellent American Whiskey started in and with the Flying Dog Brewery in Denver, Colorado. I first tried this Whiskey as an immature product at the distilling room in Denver during a tour of the Flying Dog Brewery two years ago. The oak-aged final product is surprisingly smooth and reminds me more of a good bourbon than a whiskey.
Rogue Hazelnut Spiced Rum, which is made by distilling white rum with mulling spices and 20 pounds of hazelnuts, then blending it with Rogue aged rum. This rum has won several international gold medals and tops my favorites list. Rogue Spirits is a division of Rogue Ales and carries all the careful craftsmanship and outside of the box creativity Rogue is known for.
Sub Rosa Tarragon & Saffron infused Vodkas, two culinary inspired vodka's that surprised and delighted me with their innovative use of herbs.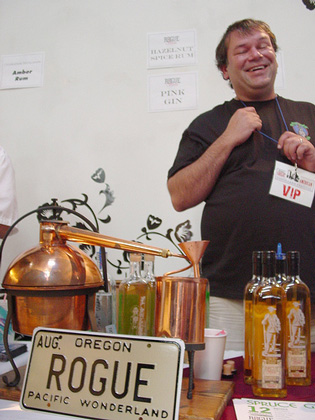 Festival events included a mixology competition, so after sampling the raw product, I made my way downstairs to attend the Mixology contest. The second annual Mixmaster Mixology Contest sponsored by Rogue Spirits and Imbibe Magazine gave attendees a taste of many of the featured spirits in cocktails designed by the distillers themselves and in cocktails created by some of Oregon's most talented bartenders.
Twenty bartenders started the two-day competition, each mixing their own creations using any of the spirits featured in the festival. The top four mixologists made the finals, where they had to create a cocktail using a surprise ingredient – in this case one of four Loft Liqueurs. Jamie McBride of Portland's Park Kitchen took the top prize of $1,000. Blair Roberts of Acadia claimed second place and a $500 check from Loft Liqueurs. Third-place bartender Chris Churilla of Cloud 9 in Corvallis did not walk away empty-handed, booze bloggers the Munat Brothers, pooled the cash they had leftover from the weekend and handed him a cash prize of $77.77.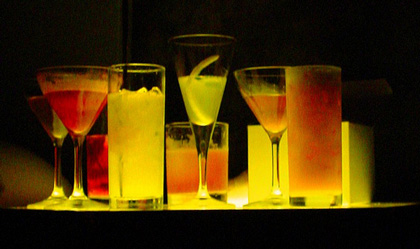 Between the contest and the bar setups in the lobby I was able to try some incredible new tastes in cocktails, try a Hot Monkey Vodka Bloody Mary, fantastic! As I mentioned at the beginning, the Great American Distillers Festival really opened my eye's to the wider scope of what the Portland Craft Beverage scene has going on, and a new list of places to visit on my next trip to Beervana. Maybe we need to update the name to Bev-vana. To see more pictures taken at GADF go to Flickr.
To visit micro distillers, a good starting point is House Spirits Distillery, several other small-craft distillers are nearby. Always make appointments for tours and tasting. Most small craft distilleries don't have the staff to handle drop-ins.
Portland Micro Distillers:
Clear Creek Distillery, 2389 N.W. Wilson St., 503-248-9470 or clearcreekdistillery.com. Tours every Saturday at 11 a.m. and 1 p.m. or by appointment. Features eau de vie, grappa, single malt whiskey and a line of fruit liqueurs.
House Spirits Distillery, 2025 S.E. 7th Ave., 503-235-3174 or housespirits.com. Tours by appointment. Features Aviation Gin, Krogstad Aquavit, Medoyeff Vodka. Also a tasting venue for Ransom Spirits, ransomspirits.com. Features muscat grappa, gewürztraminer grappa and malt-based gin. Sub Rosa Spirits, subrosaspirits.com. Features saffron- and tarragon-flavored vodkas.
Rogue Spirits Portland, 1339 N.W. Flanders St. 503-222-5910 or roguespirits.com. Features hazelnut spice rum, dark rum, white rum. Tours by appointment. Rogue also has a distillery in Newport, Ore., where it makes vodka, gin and whiskey.
Integrity Spirits, 909 S.E. Yamhill St., shares facility with a restaurant, pub and, soon, a brewery. 503-517-2030 or www.integrityspirits.com. Tasting by appointment. Features vodkas (including Oregon hazelnut), gin and absinthe.
Highball Distillery, 610 S.E. 10th Ave. 503-803-3989 or highballdistillery.com. Tasting by appointment. Features organic vodka.

New Deal Distillery, 1311 S.E. 9th Ave. See newdealdistillery.com. Tours by appointment. Features its signature New Deal Vodka, Portland 88 vodka and infused vodkas: hot pepper, basil and chocolate.
Artisan Spirits, 1227 SE Stark St. 503-781-2357 artisan-spirits.com.
Indio Spirits, Inc. (Tasting facility), 7110 SW Fir Loop STE 240, actual distilling occurs in Cottage Grove, Oregon. indiospirits.com 503.620.0313
Solo Distillery & Tapas Restaurant, 1300 NW Lovejoy St. (503) 220-0080
Nearby Distilleries:
Edgefield Distillery, 2126 S.W. Halsey St., Troutdale, Ore. (east of Portland). 503-669-8610 or mcmenamins.com. Features whiskey, brandies, gin and coffee liqueur.
Dolmen Distillery, McMinnville, Oregon
Ransom Wines & Spirits, McMinnville, Oregon
More information on the festival and American craft distilleries can be found at www.distillersfestival.com.
Sponsors for the 4th Annual Great American Distillers Festival included: Rogue Spirits, Portland Center Stage, PDX Magazine, Imbibe Magazine, Portland Tribune and the Portland Development Commission. Festival partners included the Oregon Bartenders Guild and the Oregon Distillers Guild.