Turns out that Port Brewing/The Lost Abbey has decided to make its Ultimate Box Set a baker's dozen. The brewery announced that the suprise 13th beer, inspired by "Message in a Bottle" by the Police, will be available Dec. 1, along with a select number of Ultimate Box Set Collector's Editions for purchase by the public on a first-come, first-serve basis.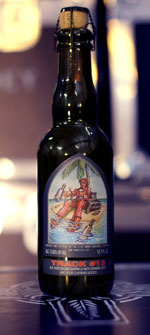 "When we began the Box Set releases last January our plan was to release a bonus track and make a number of complete sets available to the general public at the end of the year," director of brewery operations Tomme Arthur said for a press release. "But as the months progressed we began to worry that the demand was beyond our production levels and we weren't going to be able to deliver complete sets to both those who reserved them during the year and have some left for the public in December. As a result we opted to make the sets available only to those who reserved them."
To reserve a complete box set, patrons had to purchase one of the 350 bottles in each monthly Track release. The purchaser's names were placed in a lottery, 45 were drawn and received the option to purchase a complete box sets at the end of the year.
The Collector's Edition Box Sets include all 13 beers released throughout the year, a hand-built and individually numbered Lost Abbey road case, and an album-style book created by Grammy award-winning designer Matt Taylor of Varnish Studio. The book includes detailed descriptions of each Track, album cover art for each beer's label, "liner notes" from Arthur, and a faux The Lost Abbey vinyl record.
Individual bottles of Track 13 and the complete Box Set Collector's editions will go on sale in The Lost Abbey tasting room at 10 a.m. Saturday. A total of 350 bottles of Track 13 will be available for purchase and must be consumed in the tasting room.