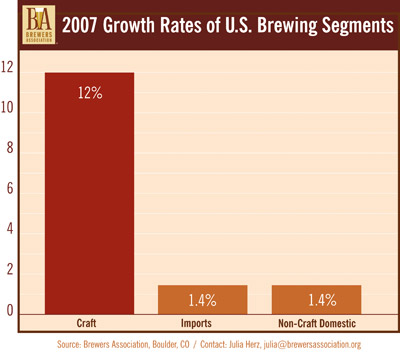 The Brewers Association reports it estimates sales of what it defines as craft breweries rose 12% by volume in 2007 and 16% in dollars. Craft brewers' share of the beer category is 3.8% of production and 5.9% of retail sales.
"Since 2004, dollar sales by craft brewers have increased 58 percent," Paul Gatza, Director of the Brewers Association, said in a press release. "The strength of this correlates with the American trend of buying local products and a preference for more flavorful foods and beers."
The BA estimates the actual dollar sales figures from craft brewers at more than $5.74 billion, up from $4.95 billion in 2006.
More craft beer statistics from the BA.