The first thing I noticed as I made my way to the 14th Annual Bones and Brews Festival was everybody and their dog seemed to be headed for the same place I was. In a place the size of Portland that tells you something. The 14th Annual Bones and Brew Festival, a benefit for the Oregon Zoo was held August 2nd and 3rd in Portland's historic Pearl District next to Rogue Ales Public House and Distillery.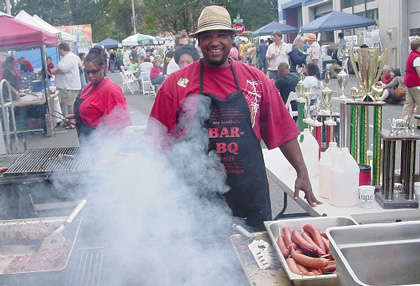 I'd seen the fest listed for years but , even though I'm a HUGE fan of good BBQ, I'd never felt like making the trip back to Portland a mere week after the end of OBF. That is no longer the case. The sounds of happy people and the heavenly aroma of pork BBQ filled the air as I entered the three city streets closed off for the fest. The barriers transformed this little piece of the Pearl District into Portland's largest neighborhood backyard BBQ. Grill-masters competed with each other, offering succulent foods including traditional, Hawaiian, Asian, seafood and vegetarian barbequed edibles.
Thirsty festival goers eagerly chose their libations from 25+ Microbrews on the street of Microbreweries, many from the Northwest like Roots, Double Mountain, Ninkasi, New Old Lompoc, Mt. Hood Brewing, Hopworks, Lucky Labrador, Captured by Porches brewpub, Laurelwood, Willamette, Alameda, Rogue, Eugene City Brewery, and Issaquah Brewhouse and more.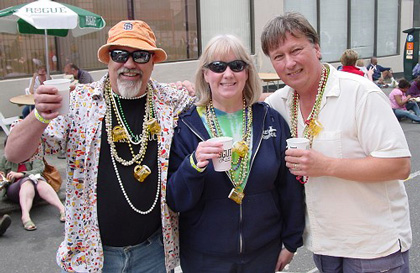 Bones and Brew is a family-friendly event and there were plenty of activities for the kids, buckets of chalk for hopscotch and sidewalk drawings, face-painters, musical acts, and a designated kid zone. Our four-legged family members weren't forgotten. Dogs were more than welcome at Bones and Brew in fact it seemed to be a requirement. My dog, Maggie, made lots of new friends as she enjoyed gourmet BBQ dog treats and lapped up all the non-alcoholic dog brew she could lay her paws on.
I didn't get around to visiting the dog psychic, I'm not sure I want to know what Maggie has on her mind, or give her the chance to blab all kinds of embarrassing family secrets to a total stranger. Unfortunately or fortunately, depending on your perspective, my dog was already recently washed so I had no need for the dog wash station but apparently there were many dirty dogs in attendance because they seemed to be doing a brisk business each time we walked by.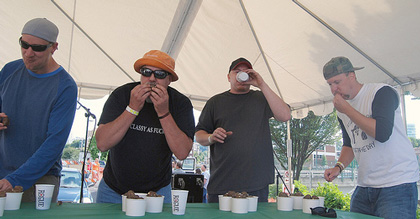 There were fun contests happening periodically throughout the 2 day event. I watched the Kobe Bleu Ball eating contest with horrified amazement as contestants jammed Rogue's signature Kobe beef and blue cheese meatballs into their mouths to see who could consume the most in 3 minutes. They didn't even have to swallow, just kept pushing more and more into their mouths until they looked like crazed chipmunks on a feeding rampage.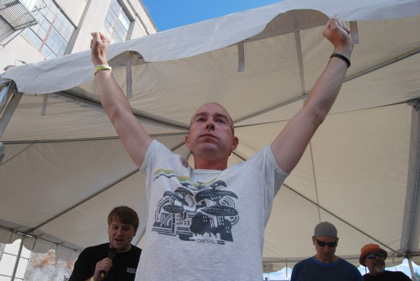 Live music by Chervona, Oh Captain, My Captain, School of Rock, PK Flyers, Power of County, The Ty Curtis Band, and Bucyrus Erie, rocked the main stage. Chervona, a local Russian band, is so energetic and so much fun to watch, if I had to describe the music I'd have to call it a sort of gypsy punk polka and I enjoy it immensely. Chervona was followed by School of Rock. It's exactly what you think it is. Except these kids aren't in a program based on the movie, the movie was based on their program and these kids are very talented. They blew everyone away with fantastic covers of iconic hits of the 60's and 70's.
BBQ street included Tennessee Red's, Cousin Kenny's, and My Brothers BBQ. Tennessee Red's won this year's People's Choice for Best Ribs, Cousin Kenny's won Best Sauce and Best Brisket, and My Brothers BBQ won Best Pulled Pork.
What better than an evening of tasty BBQ, great craft beer, and excellent live entertainment? I can't think of anything, can you? This event just became an annual for me. See you there next year.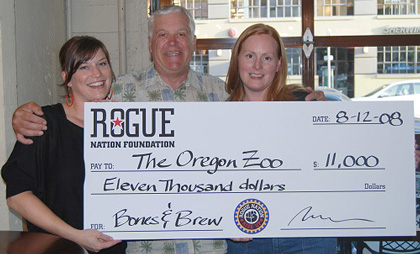 Over 4,000 people attended the Bones and Brew event this year and $11,000 was raised for the Oregon Zoo's new Predators of the Serengeti exhibit. 100% of admission donations go to the Oregon Zoo. Sponsors included Portland Magazine, Portland Street Car, Portland Tribune, and Snake River Farms.
To see more photos from the festival, take a look at the Bone & Brew Photo album.