Although the official release date is June 1, if you stop by the Odell Brewery in Fort Collins, Colorado today you can get a taste of their newest seasonal offering, St. Lupulin Extra Pale Ale.
A mystical legend in the Odell brewhouse, St. Lupulin (loop-you-lin) was the archetypal hophead. He devoted endless summers to endless rows of hops, tending to the flowers and the beloved resin within — lupulin. Extraordinary oils in this yellow resin provide this dry-hopped extra pale ale with an undeniably pleasing floral aroma.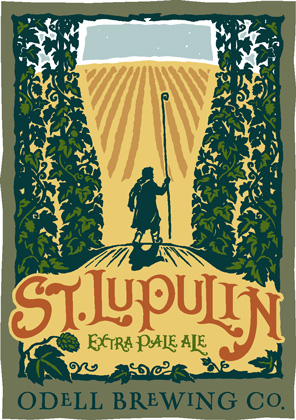 "St. Lupulin is our way of honoring the hop plant," said brewer Jake O'Mara. "The beer has incredible hop character, but it's balanced and very drinkable."
While the beer features generous Cascade, Perle, and Centennial hops, brewers aimed to emphasize aroma and flavor rather than bitterness. At 6.5% ABV, the beer delivers a surprisingly clean and crisp finish. St. Lupulin will be available through September.