Full Sail Brewing announces the release of Lupulin Fresh Hop Ale as part of their Brewmaster Reserve series. Brewing a fresh hop ale to celebrate the hop harvest is an annual tradition at Full Sail. Every year, the Full Sail brewers travel to area hop fields and gather all the fresh hops they can carry to brew this special beer. This year's Lupulin Fresh Hop Ale is brewed with three varieties of fresh hops straight from the harvest: Mt Rainier, Cascade and Nugget. According to Full Sail Brewmaster, John Harris, "Lupulin Fresh Hop Ale is a veritable hop lover's delight. The beer isall about hops. It's wet hopped, kettle hopped, hop back hopped, wet hopped in the fermenter, and dry hopped in the fermenter with 135 pounds of hops per 24 barrel batch. That's 5.62 pounds of hops per barrel! Expect a bold hop aroma of citrus and spice and a nice caramel flavor with a pronounced citrus character." Due to the limited availability of fresh hops, Lupulin is brewed in small batches, so Harris suggests that you enjoy this once a year tradition while you can. Harris goes on to explain that, "This beer is rightfully named Lupulin, as the lupulin glands are the sticky resins inside the hops that carry the bitterness and essential oils of the hops. They are what gives beer its wonderful flavor and aroma." (5.8 abv, 70 IBUs).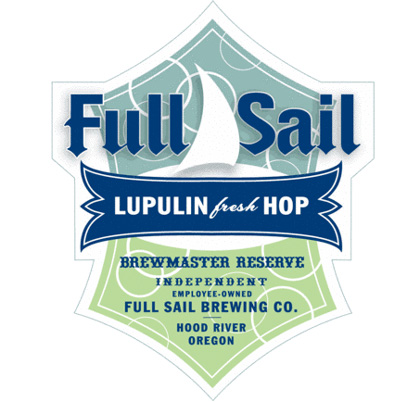 Lupulin was awarded the coveted 2007 "Satori Award" by beer aficionado/blogger Jeff Alworth at his Beervana blog. Alworth writes, "In Zen Buddhism, satori is the moment of sudden enlightenment when the mind realizes its own true nature. The Satori award, honors the beer that in a single instant allows the drinker to realize the true nature of beer." Full Sail invites you to experience the nature of this year's Lupulin when the brewery will tap the new batch at their Tasting Room and Pub in Hood River, and at their Riverplace Brewery in Portland, on Wednesday, September 10th at 5:00PM. For more information contact the Full Sail Tasting Room and Pub at 541-386-2247 or Full Sail at Riverplace at 503-222-5343.
Full Sail's Lupulin Fresh Hop Ale will be available in limited quantities mid September to November on draught in pubs throughout the Pacific Northwest and at Full Sail's Tasting Room and Pub in Hood River and at their Riverplace brewery in Portland, Oregon. It will also be available at various fresh hop beer festivals throughout the northwest and at a special Oregon Brewer's Guild fresh hop beer tasting at the Great American Beer Festival, in Denver, Colorado this October.