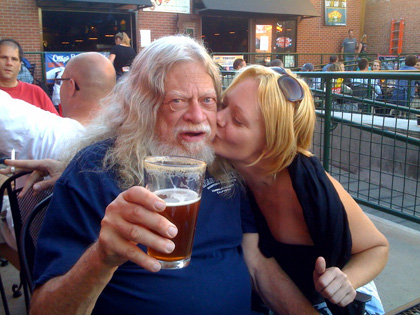 Don Younger, the pioneering Portland publican who opened the legendary Horse Brass Pub in 1976, has died.
Younger died early this morning, a day after John Foyston sent shockwaves through the American beer community by reporting Younger was gravely ill death due to "multiple health problems triggered by slipping and breaking a shoulder last week. He's unconcious and on a respirator in the cardiac intensive care unit at a local hospital."
Although Younger was best known for his role in turning Portland and Oregon into "Beervana," his death inspired a particularly moving tribute from British author Pete Brown, which concluded:
I only met Don the one time and I'll leave the proper obituaries to the people who were lucky enough to know him well.

But on the basis of one meeting, he was one of my favourite people in the beer world. Even if you didn't know who he was till now, take a while to read about him, and raise a glass of your favourite US craft beer to him tonight. After all, there's a good chance it may not have existed without his influence.
There are various stories about how Younger acquired the Horse Brass in 1976 — he had more than one version himself — but he pointed to a trip to Great Britain in 1977 as the reason the Horse Brass became what it was. "That's when I knew," he said. What, he wasn't yet sure, "but I was going to do the pub thing."
Reflecting on the first twenty years of business in 1996, he said: "We didn't know we were making history, nobody does at the time, or we would have written these things down." He talked about unopened bottles from New Albion Brewery in the pub's basement. He remembered anxiously awaiting the arrival of the first beer from Portland's Cartwright Brewing in 1980. "We had it one day," he said, but it was too flawed to serve. "I've still got Cartwright T-shirts and coasters," he said.
The first microbrewery beer he put on tap was Grant's from Yakima, Wash., in 1982. "People (in Portland) were ready, the pipeline was here. All he had to do was make it," he said. Soon he was serving Anchor and Sierra Nevada from California, then BridgePort Brewing opened in Portland in 1984. . . . The new breweries kept coming and Younger kept finding ways to showcase the most promising.
Meanwhile, publicans from across the country were always showing up at the Horse Brass, and Younger freely offered advice. In fact, he became part of a group of bar owners who called themselves the Publican National Committee. Both they and their establishments — Tom Peters (Monk's Cafe-Philadelphia), Dave Keene (The Toronado-San Francisco), Chris Black (The Falling Rock-Denver) and Matt Bonney and Matt VandenBerghe (Brouwer's-Seattle, Washington — are well known, yet they only hint at the extent of his influence.
For instance, when Deven Black opened the North Star Pub in Manhattan — now long gone, but an early beachhead for better beer in New York City — he consulted Younger. The list goes on and on. In the coming days those who Younger will tell endearing stories and reflect on how desperately they will miss him. In the coming years many more will hoist a glass of better beer and perhaps somebody will remind them Don Younger is one of the reasons they can.
More reading:
– Celebrator Beers News interview (video).
– Imbibe maganize profile.