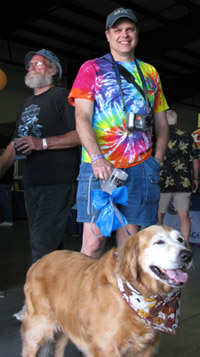 We recently attended the 2nd Annual Brewer's Memorial Ale Fest in Newport Oregon and it was a howl.
Brewer's Memorial Ale Fest honors the memory of Rogue icon Brewer the Brewdawg. This festival was something new for me because, though I've seen dogs at other beer festivals, I'd never been to a festival that so many dogs were expected to attend or brought my own along. My wife Bonne (official photographer) and I were a little nervous entering the Ale Fest. Our dog, Maggie the Golden Retriever, is very friendly and easy-going but this was going to be a new and intense dog-experience for all of us, we took a deep breath and crossed the threshold into a whole new kind of beer festival.
Why have a beer festival for a dog, you ask? Besides the obvious answer of "Who needs a reason to have a great beer fest?" (I'm serious, who needs a reason! I want names, people!) Brewer the Brewdawg was not your average canine. Born and raised in the brewery, this beer and business savvy Black Lab ruled the brewery and thru dedication, hard work, and sucking up to his master, Brewmaster John Maier, he eventually rose to the rank of CEO of Rogue Ales. (really!)
In May of 2006, at the ripe old age of 13 years, Brewer passed away. To commemorate his life Rogue Ales decided to do the thing they do best, put on a kick-ass microbrew festival for dogs and nobody would have enjoyed the special event more than Brewer. In Brewer's honor Rogue Brewery and opens its doors to dogs of all shapes and sizes and their human caretakers for two full days of fun, food, and music. (The festival benefits the Oregon Coast Therapy Animals and the Central Oregon Coast Humane Society.)
As I said, I was a little apprehensive because our dog, hadn't been exposed to this kind intense dogdom before, and there were dogs EVERYWHERE, but our fears turned out to be totally unwarranted. I've never seen so many nice dogs. It was as if they knew the festival was for them and they were all on their best behavior. I didn't hear a cross bark or malevolent snarl the entire weekend.
The festival featured lots of dog activities and we thoroughly enjoyed watching the Doggy Olympic events, Doggy Dancing, and of course we got our dog washed. Oh yeah! There was a pretty good selection of craft beer there too, many of which were specially brewed to honor the fest and the brewer's own dogs. A few of those beers were…Laurelwood's ShihZuu Brown, Boulder Brewing's Mojo IPA, Steelhead's Wiley RyePA, Astoria Brewing Company's Bitter Bitch Imperial IPA, Calapooia's River Dog ESB, Block 15's Ridgeback Red, Ninkasi's Oatis Oatmeal Stout, and last but not least Brewer's Ale by Rogue. Note: This was the second year for Brewer's Ale a seasonal single batch release and Rogue debuted a 750ml ceramic Brewer's Ale bottle.
Though an Ale Fest in name, the event had a completely different feel from your typical beer festival. There was a closeness and camaraderie between strangers. How often have you felt isolated in a beer fest crowd because you didn't know the people around you and you were too shy to say hello? The dogs broke down those walls. I couldn't walk anywhere without people and dogs reaching out in friendship to greet my dog Maggie and I and there was an overwhelming sense of community. For a beer fest there seemed to be very little discussion of beer, it was more about the dogs and we all delighted in the beautiful Oregon day with the four footed friends we love so much.
I was interviewed by Ted Fouke who was shooting video of the festival for Purina, he asked me the question, "why do beer and dogs mix so well?" I don't remember my answer; in fact I think I said something stupid like "Uh … they just do."
Upon reflection, of course it's always easier to come up with a snappy comeback after you've allowed it to peculate in your brain a bit, I'd have to say the reason they go together so well is dogs and beer affect us in similar ways. I'm sure I can find lots of correlations but I'll just give you one. Petting a dog and sipping a fine beer have the same effect on the human psyche, it slows the world down and allows you to lean back and enjoy the moment. Brewers Memorial Ale Fest just became an annual outing for this family, see you there next year.
An album of photos from the 2nd Annual Brewer's Memorial Ale Fest can be found on at Brewer's Memorial Ale Fest 2008.