Aficionados of Steamworks Brewing Co.'s "high minded" brew, Third Eye Pale Ale (PA), now can "seek enlightenment" in a can — a 12-oz. aluminum can. The Third Eye PA is now being offered for off-premise sales in six pack cans, in addition to the 12-oz. bottle six packs.
The Third Eye PA, with its "spiritual" logo featuring a Third Eye PA patron in meditation, has emerged as one of Steamworks' most popular beers, both throughout Colorado and with the brewery's additional distribution networks. It is the second Steamworks beer to be packaged in a can, and will stand alongside its internationally-renowned brother, Steam Engine Lager.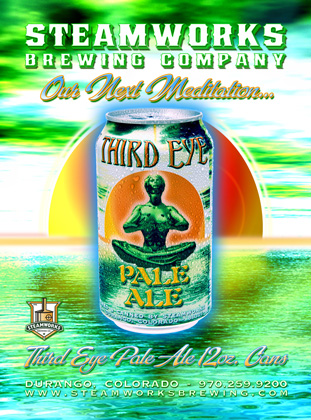 "Jupiter was correctly positioned in 2006, so we started bottling the Third Eye. And now the stars have re-aligned, so it was time to make the can commitment," said Brian McEachron, Steamworks director of marketing and sales. "Seriously, for a brewery to begin canning any of its varieties, it is a big step purely because it requires a major investment of time in label approval, and in production and purchase of packaging materials."
A complicated design, the Third Eye artwork required Steamworks to employ a new process for the cans' production – called Iris – which allows for more colors to be transferred on to the can. Advance press checks were required before the run of more than 300,000 cans was launched. Initially the Third Eye in cans will be available throughout Colorado, Texas and Virginia.
Third Eye PA is reminiscent of the English ales that date back to the early 1800s and, in Steamworks' extensive beer repertoire, is one of the most heavily hopped beers. The larger grain bill does, however, produce a residual sweetness, and the Third Eye PA features an appealing light, copper color.
"We're pleased with the response to the Third Eye PA," added McEachron. "Along with all craft brewers, Steamworks has endeavored to educate the consumer and garner enhanced appreciation of these more flavorful craft beers. Those who enjoy the Third Eye have definitely acquired a sophisticated beer palette. It's the beer of enlightened patrons in Southwest Colorado."