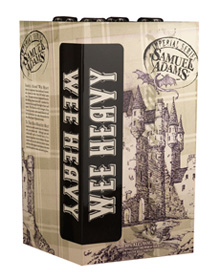 Boston Beer has added a fourth beer to its Imperial Series, Wee Heavy.
"As we did with the original three Imperials Series brews, Double Bock, Imperial White and Imperial Stout, we challenged ourselves to test the limits of a beer style and create a more intense version," Samuel Adams founder Jim Koch said. "Wee Heavy is not your traditional Scotch ale; we used bigger, bolder ingredients to boost the style's flavor."
The brewers included peat smoked malt in the grist, giving the beer earthy smokiness character reminiscent of whisky. English East Kent Goldings and Fuggles hops add more earthy notes to the beer, which contains 10 percent alcohol by volume.
A press release recommends pairing Wee Heavy with roasted pork dishes like carnitas or pork belly as well as cedar plank salmon. It also matches traditional Scottish fare like pheasant or shepherd's pie.
Other beers in the Imperial Series are Double Bock, Imperial White and Imperial Stout.