A reporter friend (thanks Brent) just sent me this terrible news. Bill Brand, longtime Bay Area beer writer and reporter with the Oakland Tribune, was critically injured last night when he was struck by a Muni train near Pac Bell Park south of 21st Amendment in San Francisco where he had just left to catch a ride to BART. The following information was posted on his Bottoms Up column in the Oakland Tribune. The only information we have at this point is that he is currently in a coma at San Francisco General Hospital.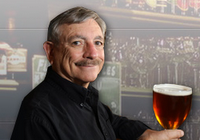 Bill Brand was in critical condition at San Francisco General Hospital after he was hit about 9:10 p.m. Sunday, family members said.

He was was walking near Second and King streets when an N-Judah train struck him, according to the San Francisco Municipal Railway.

In his career with the Tribune, Brand covered a host of topics for the newspaper, including crime and science. After leaving the paper in July, he continued to write a regular beer column titled "What's on Tap" and contribute to the Bottoms Up blog.
At Bottoms Up, they're asking to hear from "blogging buddies, commenters and community members in the comments section so they "can pass your best wishes as soon as we're able to share them." Let's do our part to inundate him well wishes.
Bill is a terrific person and an asset to the Bay Area's beer community, a tireless champion. I've been with him at events three out of the last four days, so I can hardly believe this news. With everyone here in the Bay Area for SF Beer Week, let's all stop for a moment tonight, say at 7:00 p.m. and drink a toast to Bill and especially for a speedy recovery.
UPDATE: Bill is reported this morning to be in stable condition, which is good news.