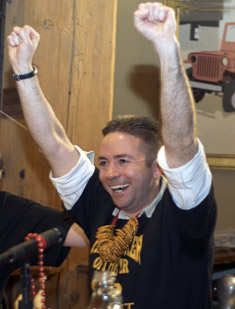 Cody Christman of Golden, Colorado, a longtime Wynkoop Brewing Co. customer, has won Wynkoop's 2009 Beerdrinker of the Year title on Saturday.
Christman has been drinking at Wynkoop since 1991.
He won the title before a boisterous standing-room-only crowd of local supporters. Wynkoop founder and Denver Mayor John Hickenlooper and his son Teddy were among the locals on hand for the event.
Wynkoop began the competition in 1997 and annually invites three finalists to Denver for the finals.
To begin each contestant much submit a beer resume. In Christman's he wrote:
Philosophy – To me beer is not a drink, it is a lifestyle.
Everything I do, and every decision I make revolves around beer. I am a tireless advocate of beer culture and the brewing industry. Beer is my passion. Beer is the most diverse and complex drink known to man. Beer's history and roots are humble, making this fact seldom discussed, but it is true.