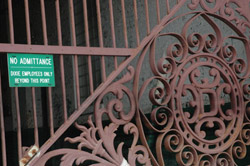 The owners of Dixie Brewing Co. in New Orleans are holding a Halloween party at the brewery tonight, even though it stands abandoned two years after Hurricane Katrina and looters left the building an empty shell.
"We've worked too hard to give up now," owner Joe Bruno said. "Dixie is fine, a lot of people want it back on the shelves and so do we."
Although the brewery stands empty the first new pallets of Dixie's Blackened Voodoo, Jazz Amber Light and Dixie Lager have been shipped and are on sale at select retail markets around the country. The beers are brewed under contract at the Minhas Brewery in Monroe, Wis.
After the party owners Joe and Kendra Bruno hope to get to the business of rebuilding. The initial phase of the plan calls for rebuilding a compact state-of-the-art facility within the historic landmark, along with a rooftop Old World Beer Garden, Gift Shop, and Hospitality Reception Center. The Brunos hope for the brewery to be back in operation within the next 18 to 24 months.