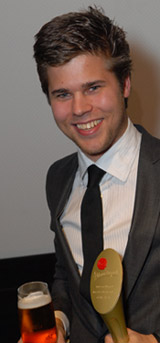 Erik Jönsson of Norway has won the title of Pilsner Urquell International Master Bartender of the Year during competition completed in New York.
Jönsson, 22, triumphed over finalists from 14 other countries.
Finalists took a written exam, were interviewed bya panel of beer experts and demonstrated their skill at pouring Pilsner Urquell according to strict guidelines.
Hanna Michalczyk from Poland and Tatyana Neklyudova, two of the first female bartenders to reach the finals, finished second and third.
After the competition, Jönsson said: "I've been really inspired this weekend. Everyone needs inspiration and meeting with bartenders from around the world who all do the same job, but are from different cultures and different countries has been really incredible."