May 22nd, 2013
|
Posted by Real Beer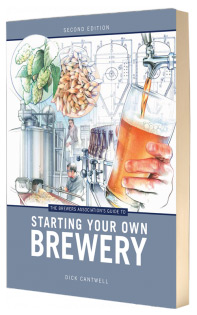 By the time you finish reading this two more breweries will have opened some place in the United States. (That's only a bit of an exaggeration.)
Those who study The Brewers Association's Guide to Starting Your Own Brewery by Dick Cantwell will almost surely have a better chance of success. The second edition of the guide has been completely rewritten and covers, among other things:
– Business plans
– Financing
– Quality assurance
– Site selection
– Flooring choices
– Branding
– Raw materials
– Distribution
– Regulatory requirements
– Equipment considerations
– Sustainability practices
– Wastewater
Cantwell is co-founder of Elysian Brewing, which has three pub locations and a production brewery. Cantwell recently talked about the book with Eric Gorski of the Denver Post.