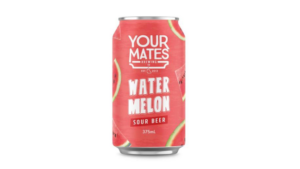 A beer made in Australia has been recalled for containing "excess alcohol," health officials said.
Food Standards Australia New Zealand said the watermelon sour beer, produced by Your Mates Brew Pub, poses a risk for illness/injury due to secondary fermentation.
According to Beer & Brewing, secondary fermentation refers to "any phase of fermentation following the very active 'primary' fermentation, but before complete removal of the yeast. In lager beers, secondary fermentation can refer to the period of maturation and lagering, during which important flavor changes occur, particularly reabsorption of diacetyl by yeast."
B&B says amateur brewers use the term to refer to an aging period after the primary stage of fermentation that usually involves moving the young beer to a separate fermentation vessel to remove it from dormant yeast. The sour beer was sold online and in certain Australian stores. Customers are encouraged to dispose of the alcohol and contact the company for reimbursement.