For a brewery known for its use of hops, it seems out of character to wait nearly 30 years to produce a year-round IPA. Torpedo is worth the wait. Sierra Nevada Brewing Co. is proud to announce the release of Torpedo Extra IPA as the newest addition to its year-round roster of beers. This is the first full-production IPA to come from the brewery and the first change in its year-round lineup in over a decade.
Why did it take so long to introduce a year-round IPA? The brewery has spent years experimenting, searching for a way to highlight bold flavors without resorting to hop extracts or pellets. Sierra Nevada has brewed with 100% whole-cone hops for 29 years with the belief that it makes a better, more natural tasting beer. Whole-cone hops offer subtle flavors and complexities that are unavailable in processed form. Rather than sacrifice flavor, they invented a way to do it better.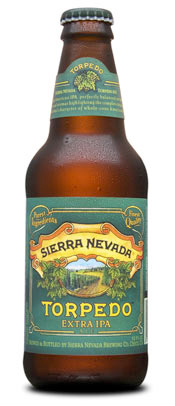 Torpedo celebrates the brewery's dedication to 100% whole-cone hops all the way through the brewing process. The name itself comes from a device called the "hop torpedo" that was conceived, designed and developed at the brewery. The result is a revolutionary method of dry-hopping that harnesses the vital hop oils and resins that lead to an unusually flavorful and aromatic beer featuring the full, nuanced range of spicy complexity that hops have to offer. Designed with a mixture of hop varietals, each with their own unique character, Torpedo Extra IPA has layers of flavors ranging from citrus, herbs, black pepper and pine, with delicate hints of tropical fruit.
Torpedo is an assertive American IPA deep reddish-gold in color, with a smooth and bready malt presence and over-the-top hop aromas. The beer has a solid bitterness and a massive hop flavor, yet remains easy drinking with a pleasant dry finish. Torpedo Extra IPA will be available for hop fans nationwide in 6-pack bottles starting late January 2009.