Kurt and Rob Widmer, innovators of American-style Hefeweizen, may be laid back guys but they are serious about brewing great beer. Their latest creation, Drifter Pale Ale, is no exception. Brewed with Summit hops, a new variety known for its intense and abundant citrus aroma and flavors, Drifter's taste is unique to the category. True to the pale ale style, Drifter's light bittering hops give the brew a crisp, clean and refreshing finish ideal for those longing for lazy days adrift on the lake.
"We crafted Drifter to make waves in the category and provide beer lovers with a new pale ale experience," said Kurt Widmer, co-founder of Widmer Brothers Brewing. "Most pale ales are brewed with Cascade hops. Ours is truly an original, made with Summit hops known for their delicate flavor and undertones of tangerine, mandarin orange and grapefruit."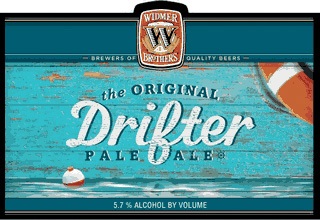 Drifter is a laid back, smooth and inviting pale ale; its subtle caramel malt sweetness balances the tangy hops and leaves drinkers feeling refreshed and satisfied. Drifter was a Silver Medal winner in the Pale Ale category at the 2006 Great American Beer Festival; the beer sails in at an ABV of 5.7% and 32 IBUs.
Drifter will be available on tap in 20 select states beginning January 5th, with six-packs on shelves in early February. The beer will launch nationwide in mid-April and will be offered year-round. A Drifter six-pack will retail for approximately $8.99.