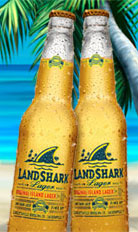 Sorry if this ruins your Monday morning but there is no Margaritaville Brewing Co. in Jacksonville, Fla.
LandShark Lager, which has replaced Corona as Jimmy Buffett's beer sponsor, is brewed by Anheuser-Busch. It's not clear if this came as a surprise to the Palm Beach Post but it did merit a story.
At first glance, LandShark looks like a microbrew that's produced by Buffett himself. After all, the name alludes to the Buffett song Fins, the product is displayed prominently on Buffett's Web site and the bottle says the lager is made by Margaritaville Brewing Co. of Jacksonville. But LandShark is brewed by Anheuser-Busch Cos. of St. Louis, although the nation's largest brewer seeks a stealth role.
LandShark is available in Margaritaville restaurants and will be sold at Buffett concerts. For now, the beer is being distributed to stores and restaurants only in Florida.