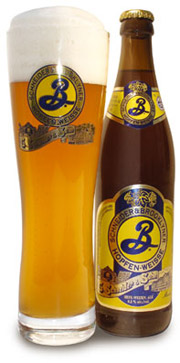 Brewmaster Hans-Peter Drexler of G. Schneider & Son brewery joins Brooklyn Brewery brewmaster Garrett Oliver today in Brooklyn to brew Brooklyner-Schneider Hopfen-Weisse 2.0.
The strong pale weissbock (8% abv) is heavily dry-hopped with Drexler's favorite American hop varieties. It will be fermented using the Schneider Weissbier strain of yeast. Brooklyner-Schneider Hopfen-Weisse will be part of The Brooklyn Brewery's Brewmaster's Reserve Series, and will be released on draft in mid-August.
Oliver visited the Schneider brewery in Germany nine weeks ago to brew the first version of Schneider-Brooklyner Hopfen-Weisse. This was essentially the same beer, but dry-hopped with the spicy Hallertauer Saphir variety of hop, grown in the fields near the Schneider brewery.
"Essentially, "I brewed a beer in Germany to celebrate Schneider's hop terroir, and now Hans-Peter is brewing a beer in Brooklyn to celebrate our hop terroir," Oliver said.
The bottle-conditioned Schneider-Brooklyner Hopfen-Weisse was released earlier this week, including in US markets where Schneider beers are sold.