Posted by Banjo Bandolas
"The Greatest Beers You've Never Heard Of!"
Please excuse my late report on the PIB event last weekend. It's been so long since we've had rain here in Oregon I believe my brain cells were drying up and flaking away. Today brought a blessed downpour and I feel like my brain is getting back to its normal, albeit abnormal by medical standards, functionality.
Oregon is at the tail end of a heat wave and the temperature was just a touch above my comfort level as I navigated the narrow one way streets of downtown Portland, to the Park blocks of the Pearl District. I looked forward to a wonderful evening of rare and unusual beer at PIB, the Portland International Beerfest. PIB's advertising claimed "Over 100 rare beers from 15 countries!" That was enough to lure me up over a hundred miles from Hippytown (Eugene, OR) to the big city two weeks before Oregon Brewers Fest.
The Portland International Beerfestival, or PIB, is a smaller version of SIB, The Seattle International Beerfestival, a large and popular annual event held at the end of June in Seattle. I found SIB to be a huge, throbbing festival that reflects the amped-up Starbucks culture of Seattle, whereas PIB is small, laid-back, and very much a reflection of its host city. The event strives to bring you "The Greatest Beers You've Never Heard Of!" a bold ambition when you consider the attendee's are residents of Beervana.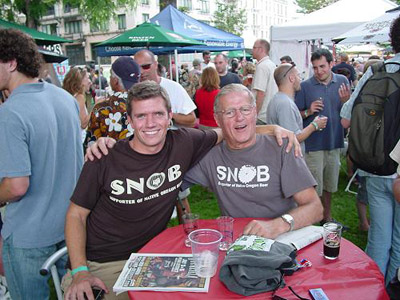 I was given 10 tickets and a 4 oz. sample glass for my $20 entry fee and I wanted to make the best use of them before resorting to buying the dreaded EXTRA tickets at $1 each.
I scanned the program. There was an impressive list of beers, and in some cases breweries, I'd never heard of. Each beer cost 1, 2, 3, or 4 tickets depending on "swank factor" (according to event organizers). The general consensus I and my fellow imbibers came to was the number of tickets had more to do with the AMOUNT of that particular beer the organizers had been able to procure rather than any "swank factor".
I was happy to find no impenetrable throngs around the pouring stations. I didn't see a line of more than two or three other people at any particular station. People were very relaxed, and many brought their dogs and came prepared to enjoy the fest with cards or backgammon sets.
I was driving and had to keep my intake within reason so don't expect a long list of tasting notes here. I tried some great ones, some good ones, some bad ones, and some truly awful swill.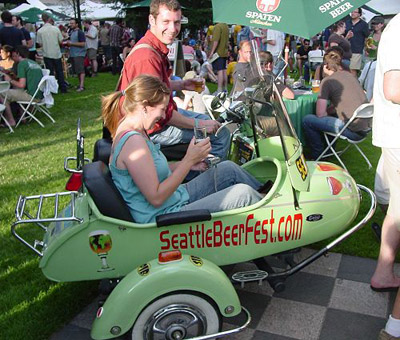 I selected a light beer to start off. I'd heard of Zatec, the new import from Merchant Du Vin, and made a beeline for the booth. Zatec bears the name of the region it's been brewed in since 1004, Zatec Czech Republic, located in the world famous Saaz hops region. The beer, a bright and sparkling lager, was a light, well balanced blend of malt and hops with a very clean, slightly fruity, finish. This is my idea of a perfect summer thirst quencher. I rank it high with my other new favorite summer beer, Haymaker, an extra light ale by Portland's Bridgeport Brewery.
Okay, now my palette was prepped for something a little more complex. Direction came from Alan Shapiro of SBS imports who mentioned his Brewer's Reserve Signature collaboration ale by Tomme Arthur of Pizza Port Brewery and Dirk Naudts of DeProef Brouwerji. They designed the beer with four different malts, saccharomyces and brettanomyces fermentations, and some aggressive west coast hopping with three different varieties. The result was a delicious malty blend of citrus notes and hop bite with an underlying yeast tartness. It was the most unusual beer of the fest for me and I recommend it. I understand it will be available first thru Michael Jackson's Rare Beer Club.
Moving down the line, I felt the old compulsion many of us fall prey to, beers with weird names. Being an Oregon Duck fan how could I resist a beer called "Sick Duck"? The full name is Sick Duck Rum-Barrel Imperial Stout. It's an 11% abv barrel-aged Imperial Stout from Washington's Flyers Brewery. The pouring at PIB was the first time Flyer's beers had been available in Oregon. This special version of Sick Duck was a monster Imperial Stout that had been aged in barrels that previously contained French Oak and Pyrat XO Reserve, a 15 year old Caribbean rum. This is a big beer, not for the timid! Molasses and caramel notes complimented the strong bourbon nose and taste followed by an unexpectedly nice finish, in short quite enjoyable, but thank god it was only 4 oz.
The success with Sick Duck led me down a garden path, and I made a few missteps. Old Engine Oil lived up to its name as total swill. Another clinker was Black Boss Porter, a 9.4% abv Baltic Porter that could have, in my humble opinion, doubled for a pancake topping.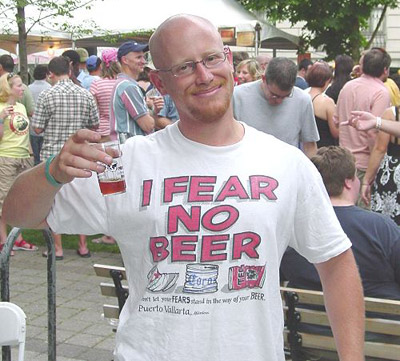 My next choice didn't take a lot of thought, when I saw the Ommegang Three Philosophers on the list I went directly to the booth, cleansed my palette, and apologized to my mouth with two servings of that truly great beer. Though Brewery Ommegang is located in New York State, Three Philosophers actually has roots in Portland. There was a contest where readers of Realbeer.com were asked to describe the perfect beer. A Portlander came up with the winning words and Ommegang went to work bringing the description to life. Three Philosophers was born. Three Philosophers is a blend of Belgian dark strong ale and Lindeman's Kriek. It produces a nose of sweet cherries, malt, vanilla and with slightly sour Kriek notes.
My double indulgence in Three Philosophers left me ticketless. I decided this was as good a stopping point as any. The two Portland police officers talking to a couple departing festival goers reinforced my decision and I said goodbye to the Pearl District and P-Town.
I came to PIB somewhat doubtful they could pull off the bold claims of their advertising, I'm happy to concede they hit their mark and look forward to next years list of "The Greatest Beers You've Never Heard Of!"