Rogue's Dead Guy family has a whole new spirit—Dead Guy Whiskey, created on the Pacific Ocean and Yaquina Bay in a multi-step process.
Northwest Harrington, Maier Munich, Klages, and Carastan malts are combined with Free Range Coastal Water in a 100 BBL 3,000 gallon brew system. Distiller's yeast is then added to the wort, fermented, and then hauled across the parking lot to the Rogue House of Spirits (est. 2006) where its double-distilled by Master distiller John Couchot in a 150 gallon Vendome copper pot still and then aged in charred American white oak barrels. Each 3,000 gallon batch yields 100 gallons of Dead Guy Whiskey.
Dead Guy Whiskey is created with the same 4 grains used to make Dead Guy Ale, which was created in the early 1990s to celebrate the Mayan Day of the Dead (November 1st, All Souls Day).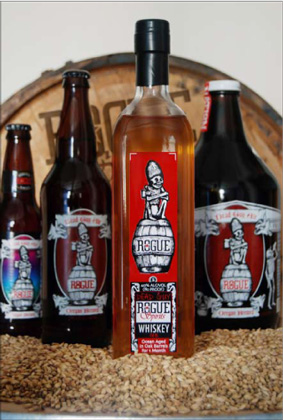 Dead Guy Whiskey has already received critical acclaim – placing 3rd in the World Beverage Competition in Geneva, Switzerland, competing against spirits from 25 different countries. It is now available in limited quantities in limited markets in a 750 ml serigraphed bottle.
Rogue Spirits has been distilling award-winning White, Dark, and Hazelnut Spiced Rums since 2003, producing Dead Guy Whiskey, Vintage Vodka, Spruce Gin, and Pink Gin. Distiller Mel Heim operates a 50 gallon copper pot still in the historic Pearl district in Portland, Oregon.
In October Rogue will sponsor the 5th Annual Great American Distillers Festival – a gathering of small distilleries from across the country who come to Oregon, the Mecca of craft distilling, to share their products, their passion, and their expertise in hand-crafting spirits.
Celebrating five years of distilling, Rogue Spirits creates award winning, multi-ingredient, small batch varietal spirits, artisan distilled in traditional hand-crafted copper pot stills. Rogue Spirits have won 44 awards for taste and quality and are available in 13 states and 5 countries. No chemicals, additives or preservatives are used. Visit our website at WWW.ROGUE.COM for more information.