"Tit-for-tat clashes in Gaza may escalate into the next quagmire in the Israeli-Palestinian conflict." Thus was the dire prediction of Time Magazine on Monday, March 3, 2008. And a scarce 10 months later, on Tuesday, December 30, 2008, Time unfortunately had to publish another headline: "Attacking Gaza: The Fog and Rain of War." This unfortunately is an all too familiar story from the endless conflict between Israelis and Palestinians. Violence appears to be the new normal in the Middle East, with neither side able to find common ground for peaceful coexistence. The diplomats have tried and failed, as have the soldiers!
Professionals devoted to hops and malt instead of vitriol and weapons, on the other hand, seem to have a knack for bridging gaps that political leaders may find insurmountable. A perfect example is an article in The Jerusalem Post of December 11, 2008, which — barely three weeks before the outbreak of yet another round of war — quotes an Israeli talking about "the divine Palestinian brew Taybeh." The man quoted as calling the Palestinian brew "divine" is Gad Divri, a brewer and the General Manager of Beer-D, a Tel-Aviv brewing supply company. Taybeh is made by Nadim Khoury, the owner-brewer of the Taybeh Brewing Company. Taybeh is the only brewery in Palestine. It is situated in the small village of Taybeh outside the Palestinian West Bank capital of Ramallah. Fittingly, Taybeh means "delicious" in Arabic.
Nadim obviously reciprocates the esteem accorded him by his Israeli colleague, as was evident at the 10th annual post-BRAU-Beviale Bavarian Party at the Weyermann Malting Company, on November 15, 2008. What the diplomats and the generals have not been able to accomplish in decades, happened over pints of Barley Wine, Rauchbier, English Bitter and Pumpkin Ale — all made in the Weyermann Pilot Brewery in Bamberg: A Palestinian and an Israeli brewer sitting peacefully side by side, smiling, exchanging ideas, and enjoying each other's company!
As happens every year, Weyermann had invited friends and business partners from all over the world to the annual bash on the Company grounds … and almost 300 people from 35 countries came — from Russia to France to Australia to the United States.
In a world divided by so much strife, the unity of people involved in beer takes on a poignant significance: Wherever people make hot wort and cold beer instead of hot and cold war, it seems, the brew can still bring people from all cultures and all walks of life together … even Palestinians and Israelis!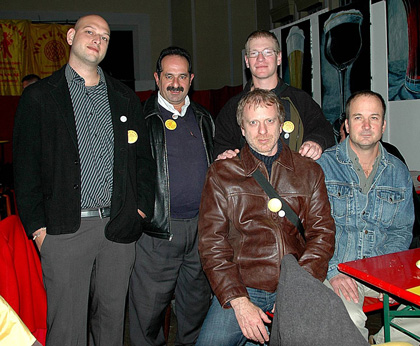 A Pint for Peace: back row, from left to right: Lior Balmas (Beer-D Brewing Supply), Nadim Khouri (Taybeh Brewing Co.), Yochai Kudler (Hanegev Brewery). Front row, left to right: Yariv Zwigenbom (Barik homebrewery), Omri Zilbermann (Beer-D Brewing Supply) at the Weyermann Bavarian Party 2008 in Bamberg.