I got the following press release from Nebraska brewing in Papillion, Nebraska last week, suggesting things have been a little quiet around the brewery lately. But at least they're keeping their wits about them.
Nebraska Brewing Company is pleased to announce the completion of Phase 1 of its Analog to Digital Craft Beer Flavor Conversion in compliance with Federal Mandates. The Congressional mandate for the cessation of full power Analog flavor is to take effect on February 17, 2009 and requires that all analog flavors be converted to digital by that time.
"We believe our efforts to be ground breaking in the sense that while all Craft Beers are required to make the jump, we believe that we are the first to undertake the initiative." Said Paul Kavulak, Owner of Nebraska Brewing Company. "Over the past year, our R&D department has been able to convert our Brunette Nut Brown and Cardinal Pale Ales to the new format with only minor incompatibilities with the old Analog Growlers, we're in great shape to be fully converted by the mandated date."
Digital flavor enables Hi-Def aspects which drinkers cannot experience using the older Analog 16 oz. Pint Glasses. While the newer digital 16 oz. glasses have been on the market for years, drinkers will not be able to experience a true HD experience without the new beverages.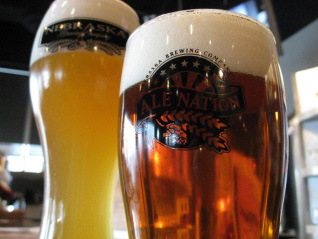 Photo of Pre and Post-Digital Conversion Craft Ales
(Digitally Enhanced Ale on Right)
Nebraska Brewing Company Public Service Ads have been running for months but unfortunately, the marketing department missed a significant error introduced by the Ad Agencies just prior to roll-out. "TV Ads in thousands of markets have mistakenly used the word TV instead of Beer in our commercials" Said Paul. "We're doing our best to rectify this situation but our ad dollars are already spent. Just think Digital Beer when you hear Digital TV and you'll be fine. Also, we expect some consumer backlash when they realize they should have been spending their monies on our Craft Beer instead of buying new TVs." Nebraska Brewing Company Digital Beers use a special digital tap and binary beer lines which maintain the beverage integrity from tank to glass. "The biggest hurdle we've encountered to-date was the difficulty in the acquisition of digital yeast but our suppliers have worked very hard alongside us in our efforts". Said Paul.
News within the industry has been reporting for some time that many of the larger factory breweries appear to have already tried and failed in their digital flavor conversion efforts as evidenced by the absence of flavor in many major brands. Further evidence of this appears in new ads touting drinkability, color changing mountains, or wide mouth cans instead of directing attention to the problems with flavor. Nebraska Brewing Company remains committed to quality, flavor, and an ongoing effort in remaining the people's choice in these difficult economic times. In the days leading up to the full digital conversion, Nebraska Brewing Company consumers are urged to try these converted beers soon and often to evaluate personal compatibility with the new format.