A Queensland boutique brewer has today made brewing history with the launch of BIGHEAD — Australia's first no-carb beer. BIGHEAD is the brainchild of Burleigh Brewing Company, an independent craft brewery based in Burleigh Heads on Queensland's Gold Coast.
Burleigh Brewing's CEO, Peta Fielding, said BIGHEAD's arrival would be welcome news for men and women across Australia who are conscious of their carbohydrate intake, but love their beer.
"There are a lot of low-carb beers on the Australian market, but only one no-carb – and that's BIGHEAD Beer," said Fielding. "For the past year, our customers have been asking us when we were going to create a low-carb beer and today, we've not only delivered, we've exceeded everyone's expectations with a beer that is truly unique. We don't know why this hasn't been done before now, but we're thrilled that the idea and ability has been developed by an independent Queensland company."
BIGHEAD is a full-flavoured, full-strength lager that is 100% natural, free of additives and preservatives, and has a smooth, clean taste – with zero carbs and only 88 calories per bottle.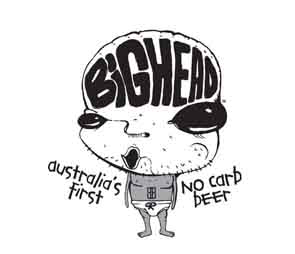 BIGHEAD is named after its place of origin – Burleigh Heads – which was originally dubbed 'burly head' (meaning 'big or brawny head') by surveyor James Warner in 1840. The name also celebrates the fact that this is a big idea, and a big beer, for an independent brewery.
So how has this little company from the coast managed to create something that no-one else in Australia has? Understandably, they're not wanting to share too much of their secret, but surprisingly, its based more on tradition than modern technology.
"We use a very authentic brewing process to ensure all our premium beers are fresh and pure. And adding the no-carb element to our brewing involved even more attention to times and temperatures – and required plenty of patience," said Fielding.
The Burleigh Brewing team, led by Masterbrewer and co-founder, Brennan Fielding, has spent the past year researching, developing, testing and refining the no-carb recipe, which has also been tested by an independent lab in accordance with Australia and New Zealand Food Standards to substantiate its no-carb claim.
But for Brennan and Peta Fielding, this process has been largely a labour of love. "As a craft brewery, we're passionate about making great beers that taste great and make our customers happy," Peta Fielding said.
"One thing we wouldn't compromise on when we were creating this no-carb beer is the quality. BIGHEAD is full of flavour, fresh, pure and balanced, with the added bonus of no carbs. Low-carb beers may have been the 'it' drink of 2008, but looking towards the new year, we see the launch of BIGHEAD opening up an entirely new beer category. We hope Australia enjoys drinking BIGHEAD as much as we enjoyed creating it."