Sunny skies and mild temperatures set the mood for the 13th annual Holiday Ale Festival in Portland, Oregon, which witnessed attendance consistent with the year prior: final numbers reached 17,000. The West Coast's most prestigious winter beer festival took place Dec. 3 through Dec. 7 at Pioneer Courthouse Square.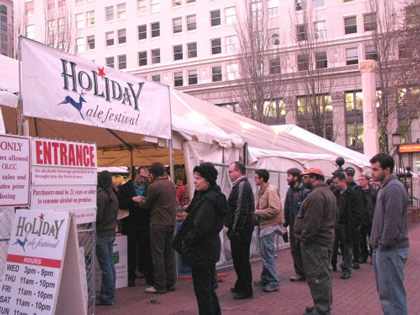 Organizers added a fifth day to the event this year, which was well-received by the public. According to event manager Preston Weesner, the goal was to have 500 attend on opening day: more than 1,000 turned up, many to sample an additional eight special beers that weren't available the rest of the weekend. A new annex with a third bar was also deemed a success, as it helped to alleviate the crowds in the main tent.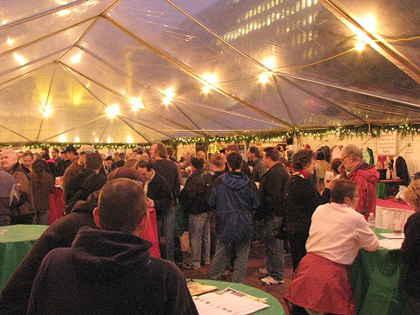 The Belgian Beer and Brunch, an auxiliary event held on the Sunday of the festival, sold out, with more than 80 people sampling prestigious beers and noshing on pastries, meats and cheeses.
The Holiday Ale Festival presented more than 50 robust winter craft beers on draught, all of which were either created for the event, or were rare or vintage beers not readily available in the state. These winter warmers were all designed to ward off the chill of winter and warm both the palate and soul. Complex in aroma and flavor, these beers were rich in color, big in body, and high in alcohol.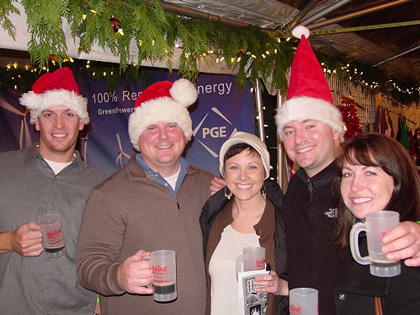 The People's Choice winner, which was determined by the beer that went through the most kegs, was Collaborator's Hallucinator Olde Ale, followed by the Holiday Ale Festival/Hair of the Dog Commemorative Blend Jim II.
Festival attendees stayed warm and dry under a large clear-topped tent that covered the venue while allowing for views of the city lights. Gas heaters created a cozy ambiance under the boughs of the city's Christmas tree.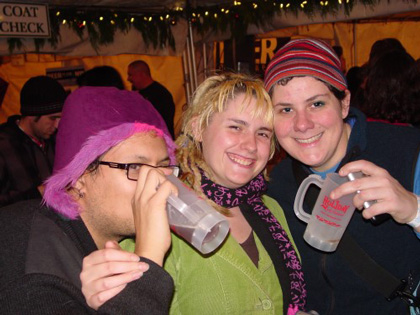 In addition to beer tasting, the Holiday Ale Festival also featured on-site food from Rogue Ales, event merchandise, complimentary Crater Lake Sodas for designated drivers, organic cheese pairings, mead sampling, and seasonal background music.
Next year's Holiday Ale Festival will take place Dec. 2 through 6, 2009. For more information about the Holiday Ale Festival, visit www.holidayale.com.
Photographs courtesy of Bonne Bandolas.