After an historic election, St. Pauli Girl beer, the No. 2 German beer in the U.S., has officially named model Katarina Van Derham as the new St. Pauli Girl spokesmodel for the 2009 calendar year. Van Derham will bring the German barmaid brand icon to life, and will appear on the 2009 St. Pauli Girl poster, travel across the country on the St. Pauli Girl media tour and be featured on the St. Pauli Girl website and promotional materials.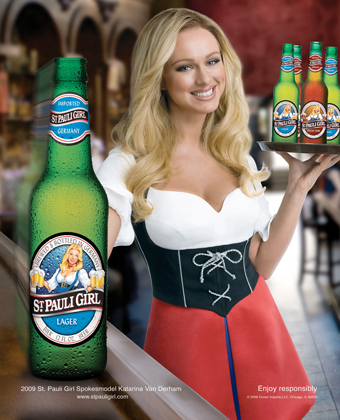 Breaking new ground this year, Van Derham is the first St. Pauli Girl chosen through an online vote, beating out three other finalists on Maxim. Van Derham, a native of Slovakia who speaks five languages, won over online voters and the St. Pauli Girl brand team with her resemblance to the traditional St. Pauli Girl icon and vivacious personality. Selecting a spokesmodel to represent the beer is a decades-long tradition for St. Pauli Girl, and Van Derham marks the 26th spokesmodel selected in the brand's history.
"Being named the 2009 St. Pauli Girl means the world to me," said Van Derham. "I am very honored and look forward to meeting St. Pauli Girl fans all over the country."
Van Derham grew up in a small village in the woods of Slovakia, a communist country at the time. She moved to the United States at the age of 22, without any intention of becoming a model. While working as a waitress in Los Angeles, she was often told to pursue modeling, and at age 26 finally decided to give it a shot. Van Derham was immediately booked for several modeling jobs, and in a short time her career has skyrocketed.
Van Derham can be seen in advertising campaigns for AT&T, Dodge, Rockstar Energy Drinks, Ed Hardy and Christian Audigier. On television she has had roles on shows including "Monk" and "CSI," and has also appeared in the films "Cellular" and "15 Minutes." Van Derham has graced the cover of dozens of magazines both in the U.S. and internationally including Iron Man, Max Muscle, Muscle & Fitness, Best Body, Double XL, British Maxim and more.
Van Derham became a U.S. citizen last year, and was very appreciative to vote in her first ever election in November 2008. In addition to her modeling work, Van Derham also works in web design for an architectural graphic design firm.