Full Sail Brewing Company recently released the first beer in their Brewmaster Reserve line-up for 2009, Slipknot Imperial
IPA. This annual favorite and gold medal winner at the 2008 World Beer Championship will be available January to mid March. "As the name implies, every aspect of this American style IPA is amplified – from the up-front hop aroma and bitterness to the big malt body," said Full Sail's Brewmaster, John Harris. (ABV: 7.8% IBUs: 80)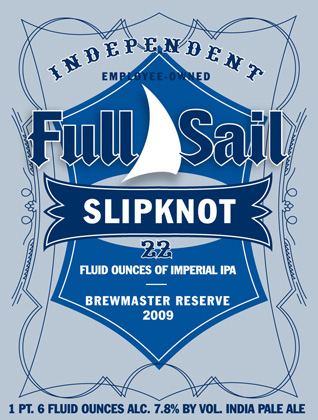 "Slipknot is part of our rotating selection of Brewmaster Reserve Beers. Every ten weeks we come out with a different beer that show cases the brewer's art. We began the program back in 1998 as a way of celebrating our independence and creativity." said Full Sail's Founder and CEO, Irene Firmat.
Slipknot will be available in 22oz bottles and on draught in specialty beer stores and pubs throughout the Pacific Northwest. In March, Full Sail will follow-up Slipknot with Full Sail Imperial Porter. New beers in Full Sail's 2009 Brewmaster Reserve line-up include Keelhauler Scottish Ale, due out in Mid-March, and Grandsun of Spot IPA, due out in June.