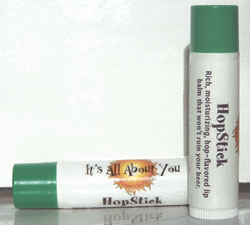 Sara Hale, former brewer of The Saint Louis Brewery in St. Louis, has taken the art of beermaking in another direction. Using some of the same skills of recipe formulation and sensory evaluation, Hale has begun creating a hophead's delight for the bath and body.
Her company, It's All About You, offers a Beer Lover's Gift Basket which includes HopStick ("hop-flavored lip balm that won't ruin the taste of your beer"), Hop Bath and Body Oil, Hops and Lavender Bath Scrub, a Hangover Eye Pillow ("relieves incessant throbbing and keeps out evil, heinous light"), and a Schlafly logo pint glass. It's available online for $25.
It's All About You, which Sara started with her sister Jamie Choler, a recreational therapist in St. Louis, offers all natural, hand-made bath and body care products, sold in various gift baskets and individually, as well as in activity kits.
Other gift baskets include Peppermint Perk, with an array of uplifiting peppermint products, and The Coffee Achiever, designed to "lift the fog from your daily grind." That one includes Coffee Kisses Lip Balm ("welcome to your next addiction"), Cappuccino Scrub Face Food and Sweet Espresso Body Polish, both scrubs utilizing locally roasted Kaldi's Fair Trade Organic Espresso.