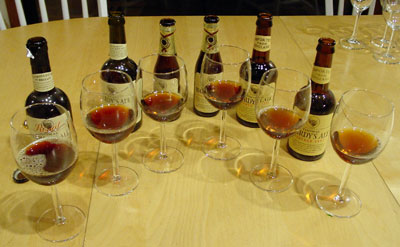 Six vintages of the classic Thomas Hardy's Ale. Five courtesy of Real Beer co-founder Mark Silva and one from advertising sales director Banjo Bandolas.
On occasion those of us at Real Beer feel compelled to join you in the beer fun. In this case hosted by Pat Hagerman, who launched Real Beer with Silva back when most of us were still trying to figure out how to download a web browser.
The night before we had sampled vintages of Samichlaus (detailed here), so we knew better than to expect too much from the 1983 bottle that Banjo brought (not his fault). Like the Samichlaus, the cap had rust on the inside. Because the bottle had traveled on its side (you can bet TSA opened that bag) it had a strange and scary-looking coating that wrapped around about one-third of the inside.
We'll get right to it. It tasted liked corked port with lemon. When we were done we each had five empty glasses and one we'd barely touched. Silva tried to salvage his, pouring it through a coffee filter (to remove the apparent sludge). He insisted that made it better, and perhaps we would have agreed – had the other vintages not been so good.
I was a little surprised to find a certain consistency across the beers. Nearly 10 years ago Randy Mosher tasted eight vintages (1986-1995, but not all years) to contribute to a story for All About Beer magazine.
Instead of a neatly vertical progression, I discovered a deliciously erratic jumble of beers, each with its own distinct mix of personality traits. All of them were enormous blasts of malty complexity, a candy shop full of dried fruit, nuts and caramel, but the balance, sweetness, oxidized character, carbonation and color were all over the place.
I suspect that's because the beers he tasted were provided by the brewery. We visited what was then the Eldridge Pope brewery in 1994 and saw that they stuck older bottles of Hardy's just about anywhere. They didn't get as warm or cold as they might have in a Los Angeles garage (where our 1983 was stored) but they weren't treated like they might be by an anal-retentive beer geek – not to say that describes Silva (that would be more like me).
After we'd sampled all of them, Pat said of the 1997, "This would be great if you didn't have the others."
Certainly the beers varied, but generally were better the older they were and the 1989 was clearly the star.
The 1996 flashed more whisky malt character, the 1995 had a layer of vegetal on top of caramel and toffee that you just know is going to go away sooner than later. You couldn't ask much more of the 1994, with an almost fresh breadiness (cinnamon rolls?), as well a caramel and licorice, with pleasing Madeira just beginning to emerge.
And then there was the 1989. Full of dark fruit, raisins and plums, nutty, a chocolate smokiness, all the things we like about sherry, frankly too many flavors to note and still enjoy the beer. So I quit taking notes.
If you open a 1989 Hardy's will it taste the same? No guarantees. Every time you choose to cellar a beer (and particularly to let one get to be 18 years old) you are taking a chance.
Sometimes it's worth it.