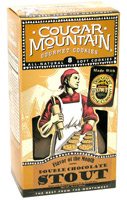 Double Chocolate Stout cookies are back this month in the Northwest. "Last year when we first introduced the Double chocolate Stout, we had the quadruple the normal number of customer comments," said David Saulnier, president of Cougar Mountain Baking Co.
Cougar Mountain uses BridgePort Brewing Co.'s Black Strap Stout as in ingredient in the cookie. The alcohol bakes out of the cookie, but flavors from the stout – most notably chocolate, molasses, coffee, other roasted quality and even an underlying smokiness – meld nicely with chocolate chunks in the cocoa-based cookie.
Cougar Mountain introduced Double Chocolate last year as a "Flavor of the Month" and brought the cookies back this October. "People were wowed by such an original flavor, and they thought the resulting cookie was great," Saulnier said.
Not surprisingly the cookies pair very well with Bridgeport Black Strap Stout. The flavors in the cookie and beer echo each other, with the understated alcohol in the beer heightening the flavors and the roasty-bitterness at the end cleaning the palate. For another bit of cookie and sip of beer, of course.
Since the cookies come eight to a box (made from 100% recycled paper) we felt it out obligation to find some other good pairings for you. The cookies are intensely flavored so you need a beverage that will stand up to them. Yes, milk works well. Most wines won't.
Beyond the Black Strap Stout we found that Brewery Ommegang Ale, currently brewed for Ommegang in Belgium, and New Belgium Frambozen both worked well with the cookies. The Ommegang is powerful enough to stand up to the chocolate, in part because it shows certain chocolate qualities. We particularly liked the way licorice in the beer matched the cookies. The raspberries (juice, actually) used to make Frambozen turn the Double Chocolate cookies into a double dessert.