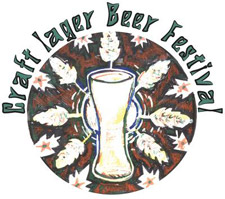 New Belgium Brewing's Blue Paddle Pilsener won Best of Show at the fifth Craft Lager Festival, held earlier this month in Manitou Springs, Colo., outside of Colorado Springs.
The festival attracted beers from 31 breweries across the country, and from as far away at Hawaii and Massachusetts. All profits from the event are donated directly to local open spaces.
Judges particularly liked the beers of Carver Brewing, a brewpub located in Durango. Three Carver lagers – including its Spring Tonic Elixir brewed to celebrate the repeal of Prohibition – brought home medals in judging held before the festival itself.
The results:
Pilsener
First: Blue Paddle Pilsener – New Belgium Brewing
Second: La Plata Pilsener – Carver Brewing
Third: Polestar Pilsener – Left Hand Brewing
Export/Helles
First: Light Lager – Rock Bottom (Colorado Springs)
Second: Longboard Island Lager – Kona Brewing
Third: Session Premium Lager – Full Sail Brewing
Bock
First: Ltd. #2 – Full Sail Brewing
Second: Rye Bock Lager – Left Hand Brewing
Third: Butthead Bock – TommyKnocker's Brewery
Strong Lager
First: None awarded
Second: Warning Sign Eis Bock – Good Ol' Boys Brewing COOP
Third: Dutch – Rockyard American Grill and Brewery
Oktoberfest
First: None Awarded
Second: Steam Engine Lager – Steamworks Brewing
Third: Ornery Amber – TommyKnocker's Brewery
Other Specialty Lager
First: Spring Tonic Elixir – Carver Brewing
Second: Cerveza Real – Carver Brewing
Third: Hop Goblin – Il Vicino Brewing (Albuquerque)