Shmalz Brewing has introduced the Hops In HE'BREW Hoppy Variety Pack, made up of Genesis Dry-Hopped Session Ale, Hop Manna IPA, Bittersweet Lenny's R.I.P.A. and HE'BREW's first seasonal lager — David's Slingshot Hoppy Summer Lager.
"It's fascinating how craft beer is surging while big beer companies are trying to catch up by marketing look-alike 'craft' beers," said Shmaltz founder Jeremy Cowan. "Our first HE'BREW lager, David's Slingshot, is our way of stepping into the action in mainstream settings — with an obvious signature Shmaltz style — our chosen shtick!"
–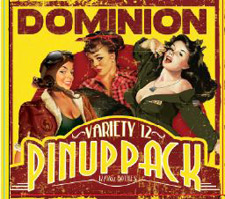 Dominion Brewing has released a Pinup Pack, a variety 12-pack containing three of its popular Bomber Girls. The Pinup Pack contains Double D IPA, Morning Glory Espresso Stout and GiGi's Farmhouse Ale. Originally bottled in 22-ounce bombers last year, Double D and Morning Glory made the switch to 12-ounce bottles earlier in the year. GiGi joins them in the 12-ounce format exclusively for the Pinup Pack. She will be replaced by Candi, a Belgian Tripel, in September. "Our goal with the Pinup Pack is to introduce more people to Double D, Glory and GiGi," Jim Lutz, president of Forham and Dominion Brewing, said. The variety pack gives us a great platform to showcase each beer's unique personality."
– Terrapin Beer Co. has packaged its first beer in cans, RecreationAle, a hopped-up session-strength beer. To emphasize how well cans go with outdoor activities, Terrapin is partnering with Osprey Packs. An online raffle (details here) offering consumers the chance to win an Osprey backpack will open in early June, coinciding with the beer's release. Each month, four winners will take home an Osprey pack. RecreationalAle is a 4.7% ABV beer with 42 bitterness units, and made with all "new world" hops — Bravo, Centennial, Zythos, Amarillo, and Galaxy.
– F.X. Matt Brewing has added two new beers to the Saranac 12 Beers of Summer package. They are Wild Hop Pils 5.2% ABV, 28 IBU), which is made with Belma hops, found growing wild on a hop farm in Washington, and Session Ale (4.5% ABV, 30 IBU).