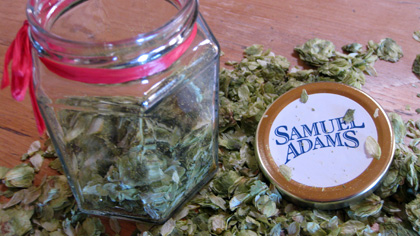 We've started a beer countdown to Valentine's Day on our Twitter feed, but some things just don't fit into 140 characters.
Turns out that Boston Beer has partnered with FromYouFlowers.com to create a Samuel Adams Hoppy Valentine's Day basket.
The package includes dark chocolate, artisanal salami, gourmet smoked gouda cheese, an assortment of mixed nuts, a bottle-opener key chain, two Boston Lager Pint Glasses and flowers . . . in this case a jar of hops.
No beer. But, not surprisingly, Samuel Adams founder Jim Koch has a solution. "Couple the basket with a six-pack of Samuel Adams Boston Lager and you have the perfect gift," he said a press release. The release includes results from a survey that found 70% of women says it's hard to find the perfect Valentine's Day gift.
"Men are typically overlooked on Valentine's Day, so we wanted to come up with a way for them to receive something they actually want and will enjoy," Koch said for the press release.
The hops, of course, are the flower addition to the package. The are the same noble hops that Koch rather famously travels to Bavaria each year to choose from each year's crop.
The package costs $54.99 and is available through Monday. Customers who enter the promotional code "SAM" will receive 20% off on their order.