by Banjo Bandolas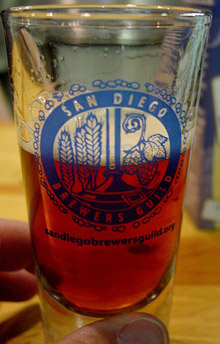 Having previously lived in California's second largest city I tend to look behind the Chamber of Commerce's curtain of descriptive verse that refers to San Diego as a place "Where blue skies keep watch on 70 miles of beaches and a gentle Mediterranean climate begs for a day of everything and nothing."
What comes to mind when you think of San Diego? Is it the Sunny Beaches, Balboa Park, Sea World, the Zoo? For me it's the sons-of-beeches you fight on the highway as you try to make it from place to place. I'd pretty much given up on enjoying myself in a town that had long ago outgrown the image of a Mediterranean paradise promised by the department of tourism. At least that was my opinion until the gem of California's south coast started building a world class beer culture. Now each time I return something new and fresh is happening.
San Diego's beer culture is a diverse collection of breweries, sewn a together like a modern day Frankenstein monster, and infused with high voltage, premium quality, brew. And just in case there is any doubt in your mind, "IT IS ALIVE!"
With over 30 craft breweries in San Diego County alone to draw from and countless pubs and taverns expanding their tap selections to offer craft beer, the San Diego beer community is strong and growing.
Even though I was pretty busy with the Craft Brewers Convention and World Beer Cup in Mission Valley, I did manage to get around to doing a couple things that always seemed to fall off my list. Some high points.
The Chula Vista area down in the South Bay, less than 10 miles from the US/Mexico border (Chulajuana to those of us who lived there), was more or less a fizzy yellow beer wasteland in the past. The area had grown exponentially over the last 5 years so while visiting family I decided to update myself on the local beer scene. I found two interesting spots to check out. The first place I went to was the Chula Vista Brewery, which is an enigma wrapped in a mystery because there is no brewery on premise, in fact they don't even make beer, in fact, I don't think they've ever even been to a brewery otherwise they wouldn't ever have included the descriptive word "brewery" in the name of the establishment. I'm sure I'm not the only poor schlub in search of decent brew to enter the Chula Vista Brewery "Pizza Parlor" and leave with a bad taste in his mouth.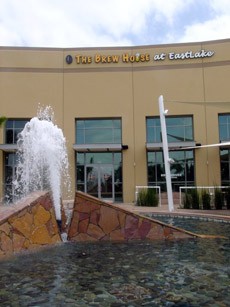 After leaving that place whose name I will never utter in print or otherwise again, I was tempted to abandon the search, but the distance was short and I had time to kill so I turned toward Otay Lakes and the other location on my list. The Brew House at Eastlake.
The only thing that could have made my arrival at The Brew House more heart lifting would have been the swell of triumphant background music as I stood, mouth agape, in front this beautiful example of a brewpub done right. Pride in ownership beamed from the facility and I noticed the names of the owners displayed in the window to the left of the door as I entered.
Owner Doug Chase treated me to the best fish taco's I'd had in years and samples of six of the seven beers they make. All were delicious examples of the craft and a couple, like the Palomar Pale Ale, and Otay Lakes Oatmeal Stout were outstanding and worth sending to the Great American Beer Fest for judging in my opinion. The Brew House in Eastlake is not the easiest place to find, but its well worth the effort and your taste buds will thank you. www.brewhouseeastlake.com
My next little trip took me to Point Loma and the Ballast Point Brewery on Linda Vista Rd., yes it is a homebrew shop with a 15 bbl brew house in the back and not too fancy in any way . . . but the beers, oh the beers are diverse and exxxxxxcellent, just plan to drink them standing up. My favorites were the Navigator Dopple Bock, and the Black Marlin Porter. Ballast Point also has a brewing and bottling facility in their new Scripps Ranch location so watch for their brew where you buy beer, but the Point Loma location is the place to go a-tasting because you never know what kinda strange wonderful brew they'll have on tap. www.ballastpoint.com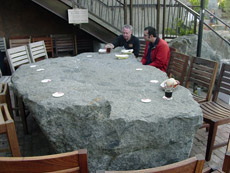 Last but not least I finally got over to the Stone Brewing facility in nearby Escondido. I heard reports about and seen pictures of the new brewery/restaurant/existential experience but kind of wrote them off as "eh…a brewery is a brewery." I couldn't have been more wrong. Words fail me. The facility has to be experienced with all your senses to be appreciated and I recommend anyone who loves beer and a truly unique restaurant experience to make the pilgrimage to Stone Brewing Co. when you are in the area. www.stonebrew.com
New and Interesting news
NEW – San Francisco's famous Toronado has seen the writing on the wall and is opening a location in the North Park area on 4026 30th Street, grand opening set for May 24th, 2008. Check website www.toronadosd.com for updates.
INTERESTING – Brewery Tours of San Diego "Transportation for a beer education" www.brewerytoursofsandiego.com. Put a group together and map out your own tour or take one of the three specially developed tours like Thank God its Friday Tour, Not So Sober Saturday Tour, or the Sunday Funday Tour. I can't think of a better way to spend the day.