Posted by Banjo Bandolas
There's something new going on at the old pub on the corner. Instead of rehashing old stories with your friends or spending hours hoping that pretty girl at the end of the bar will soon be drunk enough to approach, you can stimulate your brain cells at Science Pub!
Lucky for me the first Science Pub ever was held last Thursday right here where I live in good old Eugene, Oregon at the Luna.
When I heard about Science Pub I thought it was a novel idea, listening to cutting-edge scientific lectures while enjoying a nice brew and a bite. If college had been more like that I might have gone all the way to my PhD, because, as everyone knows, it's much easier to take in information during, rather than after, drinking.
I arrived at the Luna at precisely 7 p.m., when it was scheduled to start. I had planned to be early but had a little trouble locating the place. As I approached I noticed all of the seats outside were full and looking inside I saw that those seats were completely filled as well.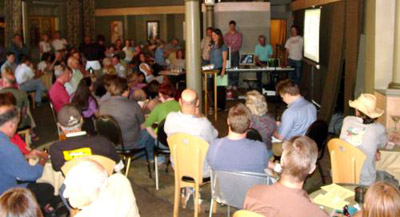 Who woulda thunk Nanotechnology could draw a packed house! I saw a seat open up and quickly weaved my way thru the gauntlet of chairs and tables and scored a place to rest my weary bones. I flagged down a very tense looking wait-person and asked if they had a beer-list.
"Don't need one." She replied. "We've only got four on tap."
"Oh," I said swallowing hard as my brain screamed out the rest of the sentence (MY GOD! Please don't let it be Bud, Miller, and Coors!) "What are they?"
"Anderson Valley Boont Amber Ale," she said ticking them off on her fingers as she went, "Lagunitas IPA, Deschutes Black Butte Porter, and the Mac & Jacks Wheat beer."
"Well, if you're only going to have four beers on tap, those are four fine beers to choose from." I thought and chose the Anderson Valley Boont Amber Ale for my starter. The Boont Amber Ale was the first beer offered by Anderson Valley back when the brewery began back in 1987, and though they served it in an over-sized water glass, (they'd run out of pint glasses), the unfiltered bright copper hue, roasted malt and caramel aroma, and the wonderfully malty flavor with a slightly bitter hop finish seemed undaunted. Also the size of the glass, generously poured gave me a good 4-6 extra ounces. Score!
The first speaker, Ben Lopez, a University of Oregon grad student started off the "Science" portion of the evening with and explanation and demonstration of how a Scanning Electron Microscope worked and showed us some wonderful pictures of the unseen teeny-tiny world around us. The edge of a sheet of paper looked as coarse as a log jamb and who knew that there were actually hairs on the wings of an insect. He also planned to let the audience work the machine but unfortunately, as often happens with highly technical equipment and trained dogs, it would perform no tricks for the audience and we moved on to the keynote speaker, Dr. Jim Hutchison, Professor of Chemistry and the Director of the UO Materials Science Institute.
Perfect timing for me to move on to something a bit more aggressive to keep my eyes open for what I expected to be a long a probably boring dissertation. The Lagunitas IPA, a clear amber, aggressively hopped, beer tickled my nose with citrus and toasty malt aromas, then delivered with a rich malt flavor followed by an excellent, long, lingering, hop bite. It was the perfect preparatory beer for the upcoming onslaught of knowledge.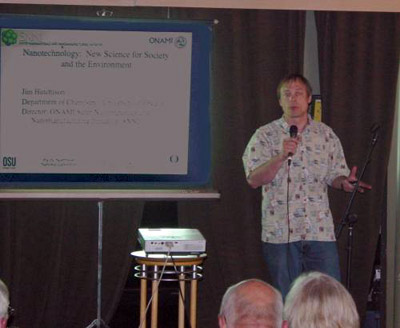 Dr. Hutchison (above) proceeded with his lecture and managed to do what I, up to that point didn't think was possible. He made the subject of Nanotechnology interesting and understandable. At one point he demonstrated the size of a "nano" (A prefix meaning one-billionth) by starting with a picture taken from 100 kilometers above the earth and stepped it in to the point where we were actually looking at the makeup of a leaf at the molecular level … incredible.
As the lecture went into the final Q&A from the audience. I decided to order my last beer of the evening; I'd saved my favorite beer, Deschutes Black Butte Porter, for last. It would be my desert.
"I'm sorry," the wait-person said, "we've run out of that beer sir."
Shoot! I was this close to a perfect evening too.
If you're in Eugene, Oregon on the 2nd Thursday of the month drop by the Luna on Willamette and Broadway at 7pm for an interesting and informative pub experience. If you're in Portland, Oregon, Science Pub is on the last Monday of the month at the Bridgeport Brewery at 1313 N.W. Marshall, also at 7pm.
Drop on by, you might learn something, and you'll definitely drink something.