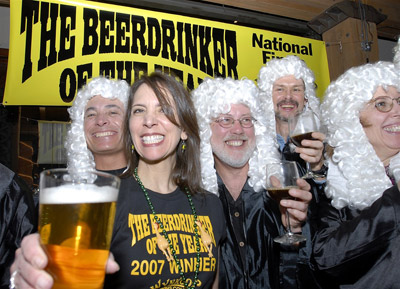 Diane Catanzaro, a Norfolk, Virginia homebrewer, beer judge and college professor, has been crowned the 2007 Beerdrinker of the Year.
Catanzaro, 48, won the title in the Beerdrinker of the Year finals on Saturday at Wynkoop Brewing Company in Denver.
A professor of industrial/organizational psychology at Christopher Newport University (in Newport News, VA), Catanzaro is the second woman to win the competition. (Cornelia Corey of Clemmons, N.C., won the title in 2001.)
"This is a dream come true for me," Catanzaro said after winning the title. "I can use the title to carry the flag for Beer Nation and spread the news about craft beer. And it gives me an opportunity to promote a better understanding of beer to women in America."
Catanzaro, a finalist in last year's Beerdrinker contest, beat out finalists Logan Perkins (of Denver, Colo.) and Phil Farrell (Cumming, Ga.). Her impressive beer drinking experiences, humor and beer ambassadorship helped her land the crown.
"I've never seen three more deserving finalists," said Tom Dalldorf, editor and publisher of Celebrator Beer News and one of the seven judges for the finals. "But Diane was very engaging, and her personality and very beery background helped her win the title. She speaks well for the beer community."
As the 2007 Beerdrinker of the Year, Catanzaro wins free beer for life at Wynkoop Brewing Company and a $250 beer tab at the Biergarden.