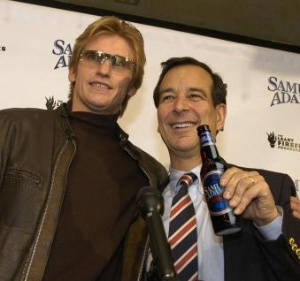 Jim Koch (right) of Boston Beer and actor Denis Leary have put together a charity auction at eBay with a 2007 bottle of Samuel Adams Utopias at the center.
Koch has autographed the bottle designed to look like a brewing kettle and Leary a "Rescue Me" coffee table book. The package also includes a custom made Samuel Adams snifter designed by Reidel. Bidding ends Dec. 20.
There are dozens of bottles of Utopias currently up for auction at eBay, but none quite like this. The proceeds will benefit The Leary Firefighters Foundation www.learyfirefighters.org, which is dedicated to providing fire departments with funding and resources for the best available equipment, training and technology.
"This auction is a great way to raise money and give beer enthusiasts extraordinary collectible items at the same time," Koch said. "We have been working closely with The Leary Firefighters Foundation for over five years, and we know it to be a great cause. We are excited to be able to make some beer lover's holiday a little brighter, while supporting Denis's Foundation."
The 2007 edition of Utopias is the strongest beer ever brewed. Just 12,000 ceramic bottles were produced, all of them numbered. Employees of Boston Beer get the first 500 bottles according to their seniority with the company. Koch is autographing and donating his No. 1 bottle.
Samuel Adams conducted a similar auction in 1999, selling bottle No. 1 of Millennium (a predecessor of Utopias) for $4,910 on eBay.