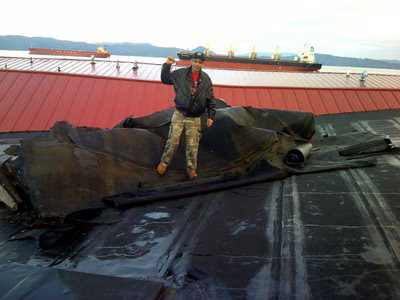 Posted by Banjo Bandolas
We don't have hurricanes over here on the left coast, but that doesn't mean the wind doesn't blow a bit every now and then. Rogue Ales Public House, Astoria, located where the Columbia River meets the Pacific Ocean, got a first hand look at the power of the Pacific when winds hit 126 miles per hour on Dec. 3.
Housed in the historic pier 39 Bumble Bee Tuna plant building, Rogue Ales Public House Astoria lost its roof to the storm which also closed Interstate 5 in Washington, caused widespread flooding and mudslides, and killed at least 7 people in the Northwest. No injuries were sustained by their staff, thank god, and in true Rogue fashion, their people had generators humming and debris cleared so the residents of Astoria could come in share their storm stories and commiserate over a pint of fresh beer 48 hours after the storm ended.
Sure, patrons had to sit under umbrellas instead of a roof, and rubber boots were recommended since there were a couple inches of water on the floor, but by god they were OPEN and ready to serve our public!
Limited hours are currently being maintained with a skeleton crew, displaced Rogue employees have been offered temporary positions in Rogue locations outside the damage zones to minimize the financial impact on their families while they wait for FEMA's arrival.
Considering how hard Vernonia, Oregon, Centralia, Washington, and some other communities were hit that might take a little while. Whenever FEMA does arrive, they'll be there, ready with a beer, to welcome their help, roll up their sleeves and get down to the business of getting Astoria back up and running.
The Olympic Club of the Mcmenamin's chain in hard hit city Centralia, Wa., weathered the storm and came out unscathed.