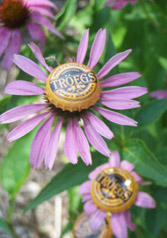 From the press release:
"Ed Kolibab of Harrisburg, Pennsylvania, Greg Gumberling of Downingtown, Pennsylvania and Ann Castaneira of Steelton, Pennsylvania have been named as the three finalists in The Art of Drinking Troegs Bottle Cap Art Contest. The grand prizewinner will be announced on Saturday, July 29 before regularly scheduled Saturday tours.
" 'We were very impressed with the caliber of entries this year,' said Chris Trogner. 'This is one contest that people continue to ask about year-round, so our goal is to make the contest an annual event. Next year, we will kick off the contest with the release of Nugget Nectar in early February and it will conclude on June 1.' "
Take a look at all the finalists.