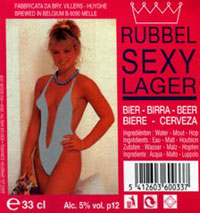 A British watchdog has banned a beer from UK shelves because its label is "too sexy."
The Independent Complaints Panel found that the beer's image associated itself with sexual success, which is banned under the Portman Group's Code of Practice on the naming, packaging and promotion of alcoholic drinks.
Labels of "Rubbel Sexy Lager" from Belgium feature woman in a swimsuit that could be scratched off to show her naked.
"The fact is that alcohol is not like other products, and it has the capacity to lower people's inhibitions, and affect their judgement and behavior," said David Poley, chief executive of The Portman Group.
The thing is that this beer has been sold in the UK for seven years. Geoff Cook, general manager of Beer Paradise, said that nobody has complained in that time.
"It's a storm in a beer bottle really," he said. "The amount of the beer that's sold is minimal. We've bought it in for the last seven years, it's always had that label and no-one's ever complained about it until now."
And what might the beer inside be like? It's in the 9th (yes, single figures) percentile at Rate Beer. One comment: "If the naked teenager on the bottle is the best thing going about this one then we are all in trouble. Would have been better for me just to scratch off her bikini and discard the bottle, beer inside. Saves the pain of drinking it!!!"