The Assignment: pick one of Deschutes Brewery's adventurous craft beers and create a dish that pairs with it perfectly. For the average home cook, this might prove challenging. But for 18 outstanding chefs, it's a piece of cake. Or, perhaps it's a huckleberry white chocolate spice tart with toasted vanilla meringue.
That's what chef Gavin McMichael of The Blacksmith will be pairing with The Abyss at the 21st annual Sagebrush Classic Feast on July 18. Other pairings include chef José Andrés' "Not your everyday Caprese salad" with Green Lakes Organic Ale and chef Roberto Donna's combination of La Fleur Ale and Lobster salad with fava beans, string beans, roasted beets and salsa verde topped with baby arugula.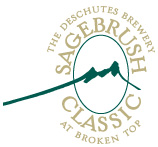 The complete menu is posted to the Sagebrush Classic website. Tickets for Saturday night's feast can be purchased online for $200 each. Besides Saturday's culinary gathering in the Broken Top Meadow in Bend, Oregon, golf enthusiasts enjoy Friday's fierce but friendly amateur golf tournament. Tickets for the golf tournament are $2,500 for a four-person Patron Team, or $650 or $850 for individuals (the higher price includes a ticket to Saturday's feast). Proceeds primarily benefit Deschutes Children's Foundation.
The Deschutes Brewery Sagebrush Classic is a golf tournament and gourmet culinary event held each summer in the spectacular mountain town of Bend, Oregon. The primary beneficiary of the event is the Deschutes Children's Foundation, which works to assist families and children in need in Central Oregon. Visit http://www.sagebrush.org for more information about the two-day event.