Bison Brewing announced the release of its Honey Basil Ale, a seasonal Bison classic since 1994. The brewers infused this unique ale with organic honey and organic basil. Honey lends a hint of sweetness and rich aroma, while fresh organic basil, in lieu of finishing hops, infuses a slight herbal note and basil aftertaste—a perfectly refreshing brew for the dog days of summer.
Bison Brewing, which recently partnered with Mendocino Brewing Company in Ukiah, CA, continues its 20-year tradition of brewing and bottling its award winning line of organic beers. Bison's brewers include specialty ingredients to augment 4 primary ingredients: barley, hops, water, and yeast. With like-minded maltsters, hop co-ops, and brewing partners, Bison is committed to artisanal brewing with only the finest ingredients; Bison's distinction for consumers in today's craft beer marketplace is organic certification and innovative use of ingredients to craft award winning, drinkable beers that people remember.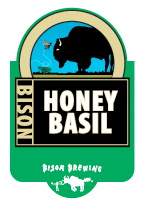 "Like my other specialty brews, this year's Honey Basil Ale uses specialty ingredients judiciously – we don't hit you over the head with the ingredients, but rather hint at it," says Brewmaster Daniel Del Grande. "All our beers focus on drinkability and balance, so after finishing the bottle I leave you wanting another! Some beers out there fatigue my palate; I like to enjoy a couple beers with food and friends."
This year's Honey Basil Ale is available in 12 ounce bottles, which retail for $7.99 per 4 pack. The company produced its first 2500 case batch. It's now available in 4 of Bison's 12 state distribution networks; it will be available most of the summer.