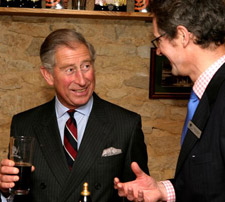 It's always a good day at the brewery when a prince drops by. Prince Charles recently visited Oxfordshire's Wychwood Brewery, because that's where his Duchy Originals Organic Ales are brewed.
Rupert Thompson, Wychwood Brewery's managing director pictured with Prince Charles, introduced him to the Wychwood brewing team as well as hop growers and maltsters.
"We are all absolutely delighted and honored that The Prince of Wales took so much time from his busy schedule to visit the Wychwood Brewery. It is a huge tribute to everyone who works at Wychwood that The Prince, who was so obviously fascinated in the production process, was able to recognize all the hard work that goes into our beers," Thompson said.