Pike Entire is a blend of three beers: Pike's XXXXX Extra Stout, (7% abv); the same beer aged for more than half a year in oak Bourbon barrels; and an Imperial Stout (12% abv). The Entire blend contains 42.7% barrel aged beer and finishes at 9.5% alcohol by volume. The taste is complex with velvety malt tones, a coffee aroma, and a palate and finish of bitter chocolate. The biscuity character of pale and crystal malts, along with roasted barley, is balanced by a generous amount of Yakima Valley Willamette, Goldings and Columbus hops in the boil; finished with even more Willamette and Goldings. Adding complexity are the underlying wood tones perfumed by the caramel sweetness of wood-aged Kentucky Bourbon.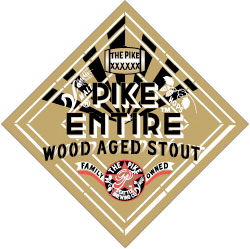 In order to brew a beer in keeping with the original style but still distinctly American, Pike acquired oak Bourbon barrels last year and filled them with Pike XXXXX Extra Stout in April 2008 to be blended back. Pike Head Brewer, Drew Cluley, describes the beer as "complex and chocolaty with a great vanilla wood overtone."
On Monday, November 24, 2008, Pike Entire, in wax-dipped 22 oz. bottles, will be released. It will have very limited availabilty at the Pike Pub and in select bottle shops, primarily in the Seattle area. A few quarter-barrels will be released for sale on draft. The Pike Pub will tap its one and only quarter-barrel of Pike Entire on Friday, November 28.